in
Won't You Be My Neighbor?
A man named Fred Rogers not only reinvented children's television but practically created the PBS network with a show called
Mister Rogers' Neighborhood
that ran from 1968 to 2001. His impact on television and his passion for loving, educating, and protecting children are lovingly brought to the screen in an incredible 2018 documentary called
Won't You Be My Neighbor?
I should mention at this point that this review is coming from someone who never actually watched an entire episode of
Mister Rogers' Neighborhood
.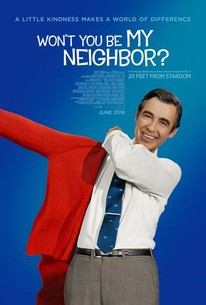 The documentary cleverly sets up backstory for Rogers as a troubled and sickly child who had a very painful childhood, though the film does not go into a lot of details about it, it is implied through his inspiration to entertain children because he spent so many hours as a child entertaining himself. Somehow, Rogers managed to get himself a half hour television series on this new, commercial-free creation called educational television where he greeted children every day by coming home, taking off his sport coat and changing into his sweater and taking off his loafers and putting on a pair of sneakers. The show featured actors playing different roles in the neighborhood and there were a group of puppets who were all voiced by Rogers and inspired by different people in his real life. An unknown artist having complete creative control of his own television was pretty much unheard of in 1968, but the film's glance at alternate entertainment for children in the 60's and 70's made TV executives search for an alternative a no-brainer.
The film documents Fred's move from his original occupation as an ordained minister to the ministry that he really loved...the ministry of loving children. It was wonderful watching the way children were completely mesmerized by this man and how hard it was for a lot of them to distinguish between Fred and the puppets whose voices he provided. There is one absolutely lovely scene here between Fred and one child and he has his favorite puppet, a tiger named Daniel, on his hand and even though Fred is talking right to the child's face, the child never takes his eyes off the puppet on Fred's hand. We learn that Daniel the tiger was an extension of Fred who often spoke for him and I really came to believe that as the film progressed.
Fred Rogers is also documented as a groundbreaker where racism was concerned. In a bold move for 1968, Fred hired a gay, black actor named Francois Clemmons to play a police officer named Officer Clemmons. Black police officers couldn't have been something children were seeing on television every day at that time. He may not have been a bigot, but Rogers was a realist who when he found out Clemmons was gay, told him that if he wanted to keep this job, he could no longer frequent gay bars.
The film features commentary from Rogers' widow, his two sons, his sister, Clemmons, other actors and crew members on the show and cellist Yo Yo Ma. My favorite thing about this documentary, that is so rare in show biz documentaries, is that the documentary doesn't peel all these layers away from the subject revealing him to be a completely different person than the one we've put on a celebrity pedestal. Fred Rogers was exactly what we thought he was, nothing more and nothing less and completely reinvented the concept of humility. I won't lie, I found myself fighting tears during this film and for someone who never watched the show or knew close to nothing about the subject, that is quite the accomplishment.