\
in
Let's Make Love
Marilyn Monroe at her most delectable, Yves Montand at his most charming and some really terrific musical numbers make a 1960 musical comedy called
Let's Make Love
worth a look.
Montand plays a billionaire playboy named Jean Marc Clement who learns that he is about to be satirized in a new off-Broadway show. He plans to put a stop to the show until he gets a gander at the star of the show, the voluptuous Amanda Dell (guess who). Clement is thrown a curve when the director thinks he is there to audition for the show and casts the billionaire to play himself, which he decides is the perfect opportunity to romance sexy Amanda.
Clement pretends to be a struggling actor named Alexander Dumas and starts to make headway with Amanda, who has also caught the eye of the lead singer in the show Tony Danton (Frankie Vaughn). Clement decides to take control of the situation by secretly purchasing 51% ownership in the show and trying to learn how to sing, dance, and act.
Norman Krasna's screenplay is a little complex and asks the view to accept something about the basic premise that I had a problem with: Jean Marc Clement is supposed to be an international businessman and playboy, world famous, womanizing, constantly in the headlines, but NO one involved in this show realizes that this is the real Clement and not an actor? It made for some very funny situations throughout the film, but it gnawed at me throughout the running time that neither Marilyn's Amanda nor anyone involved in the show ever suspects that this is the real Clement playing himself.
I was also bothered by Clement thinking that not only could he buy Amanda's affections by owning the show, but that he could actually buy talent. At one point in the story, Clement actually hires Bing Crosby to teach him how to sing, Gene Kelly to teach him how to dance, and Milton Berle to teach him how to be funny.
Fortunately, director George Cukor, who would later be motivated to fire Marilyn from her final film project,
Something's Got To Give
, brings such care to the presentation of these leading characters that we're able to overlook a lot of the problems with the film. This film is another example of how special Marilyn Monroe could be onscreen in the hands of a talented director.
The film also features some great songs by Sammy Cahn and Jimmy Van Husen, including "Specialization", "Incurably Romantic", "Sing Me the Song that Sells", and the title tune. The film also opens with Marilyn's steamy version of Cole Porter's "My Heart Belongs to Daddy". The musical numbers are imaginatively staged by Jack Cole.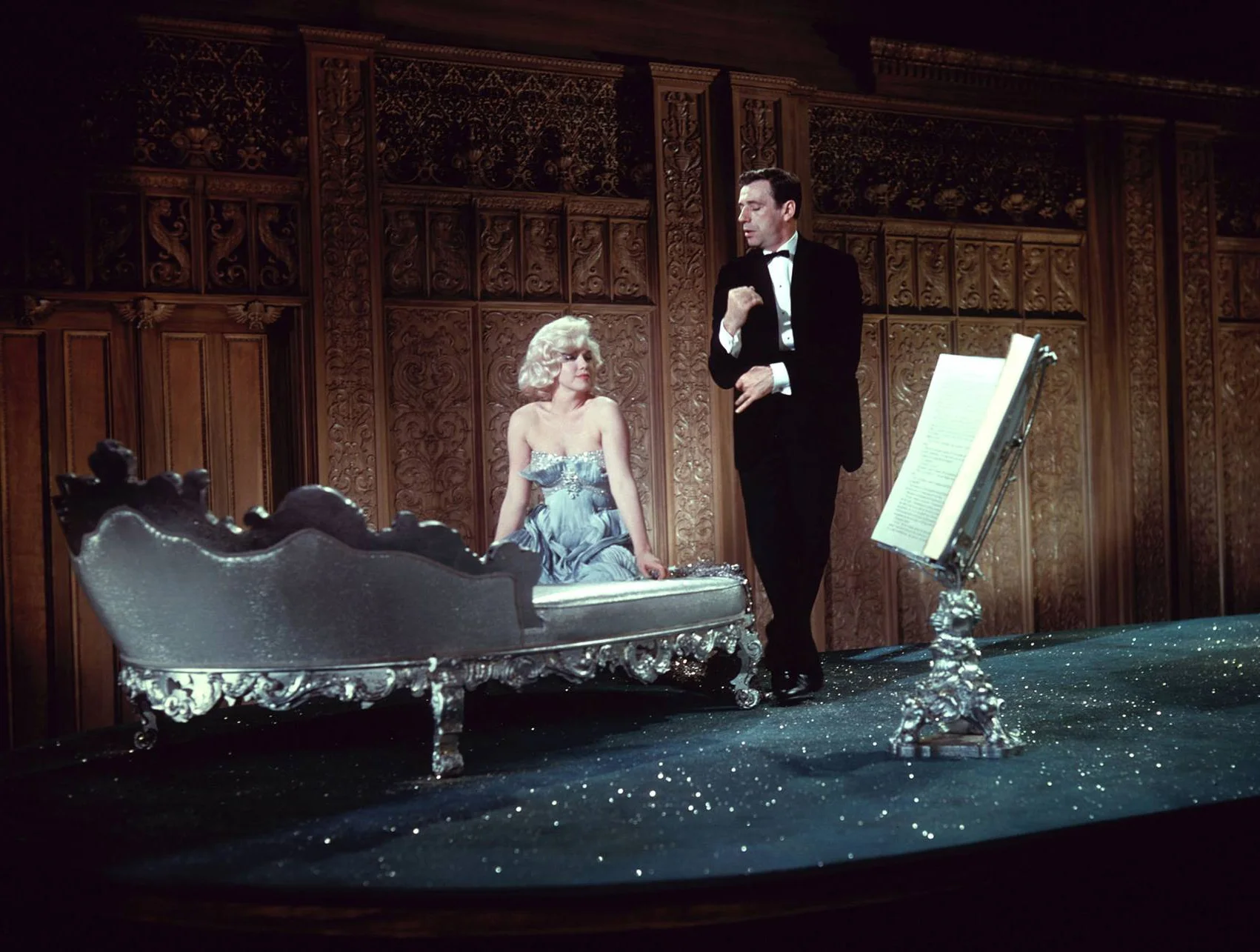 Marilyn has rarely been so charismatic onscreen, playing a character who isn't as dumb as she appears. You would never know what a mess Marilyn's personal life was at the time from her work here, none of her off-screen misery shows onscreen and I absolutely loved Montand whose charm and sex appeal keeps Clement likable even though sometimes he shouldn't be. He does a pantomime of a man waiting for a subway that actually sparked visions of Marcel Marceau. Tony Randall and Wilfred Hyde White are wasted in supporting roles, but this is the Marilyn/Montand show and they definitely make it worth watching.