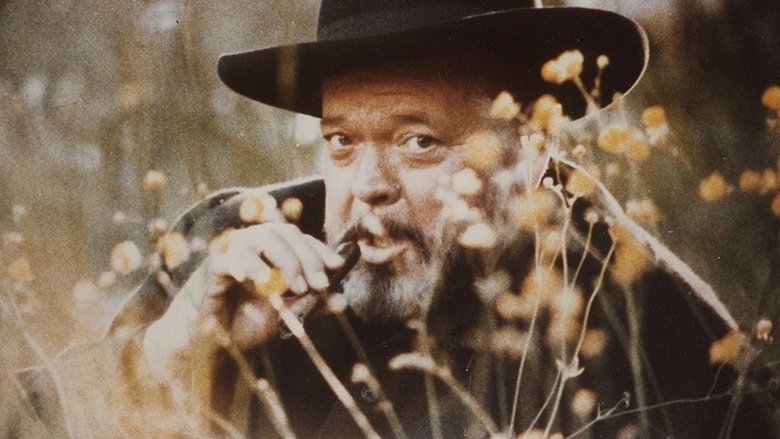 in
F for Fake, 1973
F FOR FAKE
F FOR FAKE F
F FOR FAKE F F
F FOR FAKE F FO
F FOR FAKE F FOR
F FOR FAKE F FOR F
F FOR FAKE F FOR FA
F FOR FAKE F FOR FAK
F FOR FAKE F FOR FAKE
As a proof of my readiness to accept critical convention, in a review of a film that turns the machine guns on the critics, let me at once record my rating.
He wasn't really attacking the critics I should say, but why not? It made fools of all of them. Truffaut thought it was a riposte to Pauline (Paulene?) Kael. Actually, it's a new sort of film, probably the only really original film Welles, or anyone for that matter, made since Citizen Kane. There were, of course, good (and even great) films between Kane and F for Fake, but they could only carry
cinema
further along with the same grammar, which is all right, but film is a living language so it, like all such, must be continuously changing. F for Fake is a new grammar; film in the form of an essay, in the line of Montaigne, and (say) Plutarch or (say) Dr. Johnson or (say) Emerson.
Welles the magpie had come across an unfinished documentary by Reichenbach, footage from an unfinished project, some archive footage and an old science fiction film. Hardly had he touched these scraps than they take on a new meaning. What helps him, of course, to shine, is the complete freedom to say whatever came into his head, giving it all a power that would be impossible if it were a question of bankrupting a film company. It's such an abstraction of the idea of a film. I can't imagine how he came to think of it, let alone edit it.
Yes: I know there are other so-called abstract films. And À propos de Nice was an essay film, I see, along with night MAIL and Letter to JANE and Letter from SIBERIA jonas mekas et al.
But they're not really, are they?
An abstract film isn't a film similar to abstract painting, content to imitate naively a painter's blobs of colour and balancing effects. It needn't give form to a thought, but thought itself. Cocteau – know him? – called the cinéma a vehicle for ideas and poetry. Welles, without getting technical, presented these stories as interestingly and with as many ideas as he could. It's not a documentary full of things TOO OBVIOUS AND ELEMENTARY TO BE WORTH SAYING AT ALL, it's a film of ideas, and whenever it inspires other ideas it will have value. In F for Fake we all see Orson had his best work ahead of him. I guess we'll never know.
That brings us to this business about people who find the film incoherent, or rather, thought it seemed crazy in construction, careless, tongue-in-cheek, amateurish, well that's because it is. First things first, amateur comes from the word amator (lover), and Mister Thomas Hardy wrote 'a lover without indiscretion is no lover at all'. Now: a film is a dream in which we all participate together through a kind of hypnosis. I'm happy to concede that some audiences may be unsuited to this collective hypnosis. In fact they resist it with all their individualistic strength and try to demonstrate their intelligence through criticism. You will remember the magic trick from the beginning of the film. I wonder if you heard (you didn't) Orson Welles once say that magic begins and ends with the figure of the magician who asks the audience, for a moment, to believe that the lady is floating in the air. In other words, be eight years old for a moment. If the public goes out of its way to lose its childhood faculties, if it pretends to be an incredulous grown-up unable to slip into that sphere where the unreal becomes matter-of-fact, if it insists on hardening itself against the euphoria it is being offered then there's nothing optimistic I could say about the future of film, d'you see, because it wouldn't be true, d'you see? Do change.
That this perceptive élite should stay on its guard and suspect that Welles may be taking it for a ride, when he is giving it the blood of his veins and exhausting himself in an effort to win it round makes me want to DO VIOLENCE. The beauty of a film goes beyond the eyes and ears and resides not in the dialogue nor image. It can be badly projected and inaudible without destroying its rhythm. It invigorates and revitalizes your soul, Orson Welles is a bucket of cold (hot?) water for anyone who might be in danger of falling asleep. His film makes the darkened theatre more full of light and life than outside it and gives you that sense of illumination which from time to time lightens the heart.