in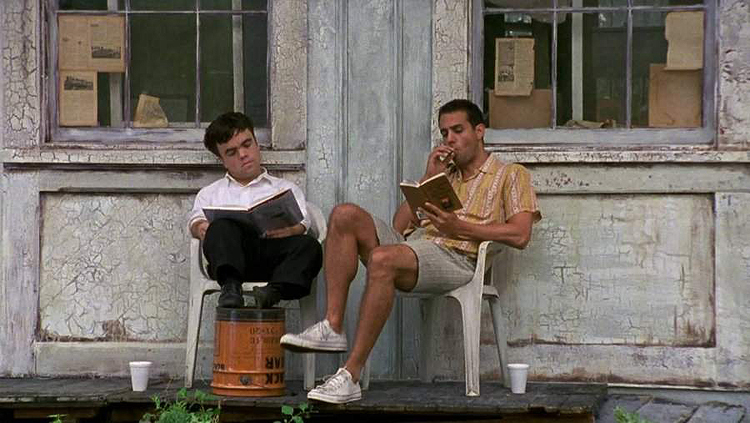 The Station Agent (2003)


Director
: Tom McCarthy
Writer
: Tom McCarthy
Cast
: Peter Dinklage, Patricia Clarkson, Bobby Cannavale
Genre
: Drama, Comedy
A week in the life of Finn, a
'little person'...
as we experience
his
world and the way people relate to him, after he relocates to an abandoned train station in rural New Jersey.
I liked it! This is a Citizen Rules type movie
It was refreshing to see a film that wasn't preachy, wasn't
in your face
, and didn't spoonfeed the audience.
The Station Agent
is much more subtle that that. Subtle is something I look for in movies.
Another film with the same subject matter might have shown Finn being harassed and bullied because of his size. Then he would find a mentor, learn to fight back and triumph in the end. That would be cliched...and it's been done a zillion times.
Thank goodness
The Station Agent
is fresh and more grounded in reality. I'd call it a
slice of life
as most of what happens is low key. Finn only gets shoved around once, and it's not because he's a 'little person' but because he interferes in a scuffle between Michelle Williams' character and her redneck boyfriend. And yet on Finn's face we can see his inner emotions as he's pushed into a car, hurting his arm and unable to fend off the bigger guy. That scene says a lot about the inner workings of Finn's mind and how all the chance encounters he's had with people has made him withdrawn and untrusting of others.
He just wants to be left alone to read his books...and yet there are people who want to be his friend, if he can just put aside the past hurt and learn to trust them.
I liked Peter Dinklage, Patricia Clarkson in this. I don't think I've seen Peter Dinklage before but I have seen Patricia Clarkson and always seem to like her and the movies she's in.