in
The Shawshank Redemption
Directed By: Frank Darabont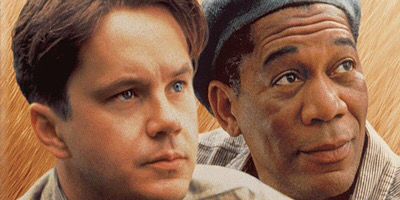 The Story
The Shawshank Redemption is a strong, wonderful, and uplifting movie about hope, friendship, and heart. It's such a powerful movie that deals with so many tough topics like rape and suicide, but also shows that hope and friendship can get you through some of the most difficult times of our lives ("fear can hold you prisoner but hope can set you free."). This movie truly is a masterpiece of cinema, and one hell of a emotional experience that I'm glad i gotten around to watching.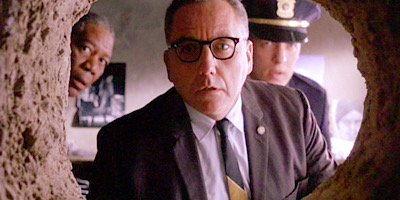 Movie Trivia;
Andy and Red's opening chat in the prison yard, in which Red is throwing a baseball, took nine hours to shoot. Morgan Freeman threw the baseball for the entire nine hours without a word of complaint. He showed up for work the next day with his arm in a sling.
Morgan Freeman's favorite film of his own.
Clint Eastwood, Harrison Ford, Paul Newman, and Robert Redford were all considered for the part of Red. In the original novel, Red is a middle-aged Irishman with graying red hair. However, Frank Darabont always had Morgan Freeman in mind for the role, because of his authoritative presence, demeanor and deep voice. Darabont alluded to the casting choice, by having Red jokingly reply to Andy's inquiry about his nickname with the line, "Maybe it's because I'm Irish."
When Andy goes to the library to begin work as Brooks' assistant and Brooks' crow, Jake, is squawking, Tim Robbins had to time his line, "Hey, Jake. Where's Brooks?" so that the crow wouldn't squawk over him, since the bird could not be trained to squawk on cue. Robbins was able to adapt to this and time his line perfectly by learning the bird's squawking patterns, for which Writer and Director Frank Darabont praised him. Robbins' improvisation is noticeable, as he watches the bird carefully while approaching it, waiting for it to squawk, and doesn't begin his line until after it does so.
Although a very modest hit in theaters, it became one of the highest-grossing video rentals of all time.
The mugshots of a young-looking Morgan Freeman that are attached to his parole papers are actually pictures of Morgan's younger son, Alfonso Freeman. Alfonso also had a cameo in the movie as a con shouting, "Fresh fish! Fresh fish today! We're reeling 'em in!" (bottom left). A year after The Shawshank Redemption (1994), he appeared as a Fingerprint Technician in another Morgan Freeman movie, Se7en (1995).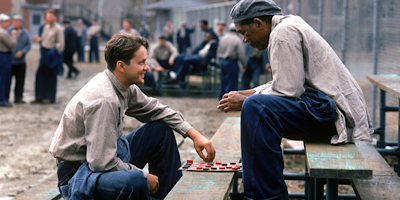 The Cast
Morgan Freeman and Tim Robbins are fantastic. As are the whole line-up of cast who all deliver some outstanding performances. To be honest there is nothing to fault at all in this movie, it's perfect in every way and the cast only showcase that throughout the movie.
Movie Highlight
My movie highlight is the last 20 minutes of the movie. I absolutely loved seeing Red (Morgan Freeman) finally get released from prison and see that hope and friendship can get you through anything. I thought the whole ending was powerful, it was emotional, and of course it was a happy ending. I thought the way the movie ended was just beautiful and it really was the icing on the cake to such an amazing movie.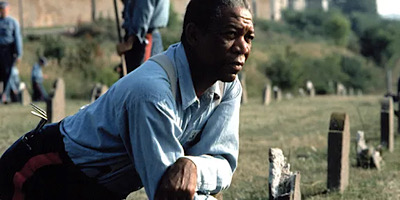 My Verdict
This movie was fantastic. And I can't believe it's took me all these years to finally watch it. In some ways tho I'm actually glad I did leave it this long, because i think i have appreciated it alot more than I may have done watching it at a younger age. Plus it's always great to watch something so different to all the other rubbish around today. They really don't make movies like these anymore.