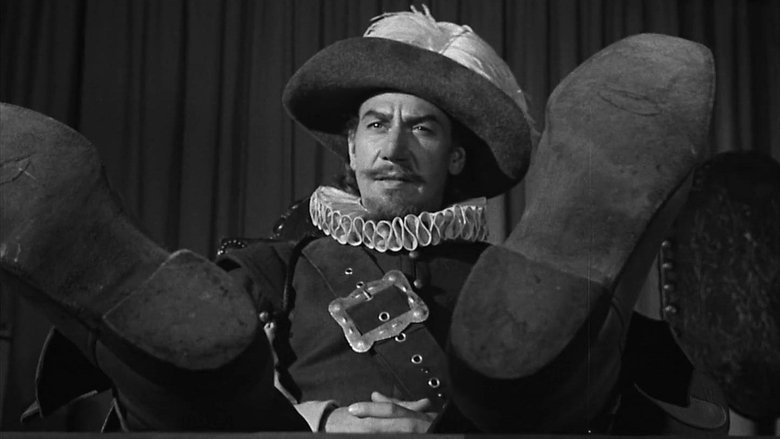 \
in
Cyrano de Bergerac
(Michael Gordon, 1950)
This low-budget Stanley Kramer production captures for posterity the brilliance of JosÚ Ferrer's Broadway performance and enabled the star to win a Best Actor Oscar to boot. The overall wit and strong plot of Edmond Rostand's play make the viewer basically ignore the threadbare sets, and it's especially easy since it starts at such a lightning pace with countless insults and swordplay crammed into the opening half hour. Cyrano is one of the great characters of literature, and Ferrer brings all his massive talent to the role of a man who feels contempt for almost all of humanity due to the fact that he feels his enormous nose has turned him into a grotesque who is unable to confess his deep love for his beautiful cousin Roxane (Mala Powers). Cyrano is a true Renaissance Man: a poet, soldier, wit, playwright, and swordsman, yet Roxane wants him to act as intermediary between her and the young recruit Christian (William Prince) she has fallen in love with at first sight. To keep close to her, Cyrano agrees.
Unfortunately, Christian is tongue-tied around women, so Cyrano has to write his love letters for him and try to help him to express his rapturous feelings to Roxane in person. The film follows the play faithfully, and at times, the low budget almost turns the movie into a film noir because there are so many shadows and dark corners on screen. It definitely has a different look and feel than Jean-Pierre Rappeneau's 1990 version with Gerard Depardieu's great performance as Cyrano, even though both films are full of wit and pathos. You can't really go wrong with any of the
Cyrano
s thus far, including Steve Martin's
Roxanne
and the 1925 silent version where all the frames were hand-painted using a revolutionary stencil process which makes the movie look like a moving painting.