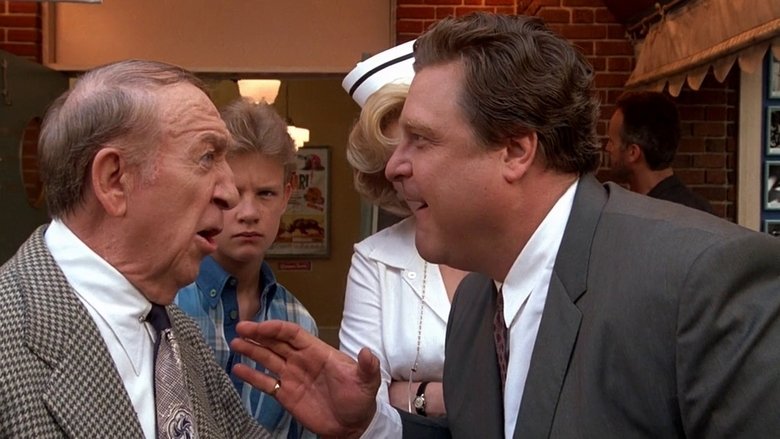 in
Matinee (Joe Dante, 1993)
Director
: Joe Dante
Cast
: John Goodman, Cathy Moriarty, Simon Fenton, Robert Picardo
Genre
: Comedy Drama
About
: In 1962 Florida during the Cuban Missile Crisis, a colorful B budget movie producer blows into town to promote his next horror flick,
MANT
. The producer is big on talk and promotional gimmicks but without a dime in his pocket. He whips the town into a frenzy to sell movie tickets, playing on the residents fear of atomic destruction.
A scene from MANT, a movie within the movie. Cathy Moriarty not only plays the lead in MANT, but in Mantinee as well, where she's the producers girlfriend & assistant. She even plays a fake nurse...a gimmick based on the real William Castle who had actresses playing nurses in the movie's lobby, just in case someone was scared to death by his film!

Gawds this was a fun movie!
It ain't the greatest movie, but I loved how huckster and low budget movie producer Lawrence Woolner (John Goodman) was based on William Castle. Castle was the king of movie promotion gimmicks in the late 50s and 60s. I've been watching a lot of William Castle films lately, which include archival clips of Castle standing in front of movie theaters and promoting his films in the most ingenious way, just like in this film.
If you notice the name of the director, it's Joe Dante, who directed such well known films as:
The Howling,
Gremlins, The 'Burbs.
But what you might not know about Joe Dante is he cut his directorial teeth working for the other King of B movies, Roger Corman, directing such B classics as:
Piranha
&
Rock 'n' Roll High School
.
Love the run down look of the movie marque and the FIGHT PAY T.V. sign...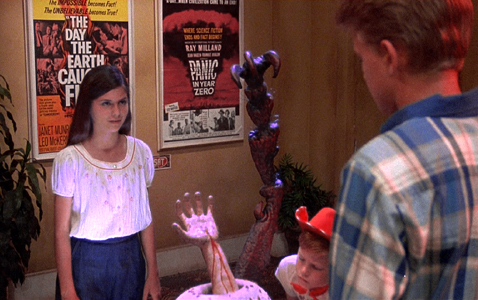 Check out the period piece movie posters. Panic in the Zero, I've heard that's a good one.
So what does all this movie history have to do with the review of
Matinee (1993)
? Everything! the entire movie is an ode to the great B horror films of the past. We see parts of the fictional movie
MANT
(a man fused with an ant), on the screen as kids watch and shriek. This movie in a movie is only part of the fun.
Add to that a whole high school teen age romance complete with a juvenile delinquent who loves poetry, bomb shelters and the infamous Duck and Cover bomb drills, and if that's not enough nostalgia, theres guest appearances by Dick Miller and Kevin McCarthy (and others) who appeared in the original
Invasion of the Body Snatchers
. With
Matinee
you get a fun time machine back to a simpler time when all a boy had to worry about was if he would kiss the girl before the atom bomb dropped on his head!
and a bunch of ++++ for nostalgic fun!