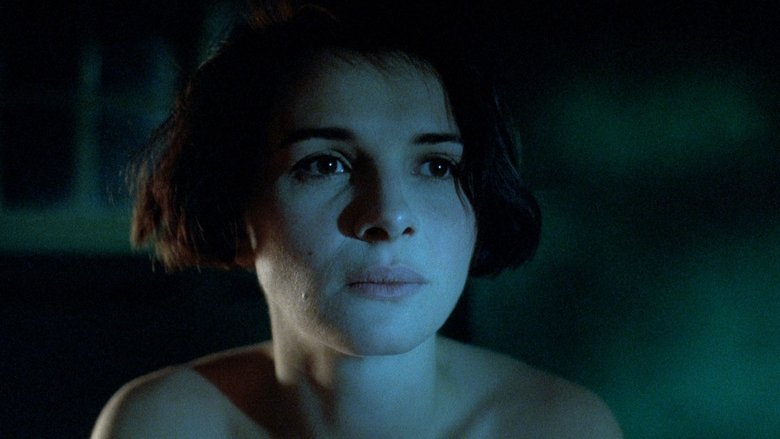 in
Three Colours: Blue (1993):
So I just saw "
Blue
" the first entry of Krzysztof Kieslowski's "
Three Colours
" trilogy and it was fantastic. According to this masterful director's interpretation of the French flag, blue means freedom (liberté) which is one of the three elements of the revolutionary motto, and it comes to no surprise that this film is all about liberation.
Julie, a good and generous woman is left traumatised after surviving a tragic car crash that lead to her husband and daughter's death, she then tries to liberate herself from the pain of her loss by throwing away her old life, she isolates her friends, her acquaintances and her secret lover, and chooses to live her new life indifferently.
After moving to a new apartment, she encounters a prostitute neighbour who is basically a reflection of her condition, she as well chooses to liberate herself by living her life carelessly, but once her past catches up to her she finds herself trapped, this might be Julie's eventual fate. She also regularly goes to the swimming pool in order to escape from time by surrounding herself with the blue water, but that never puts an end to the following and haunting memory in the back of her head.
"
Blue
" would have been a completely different film in the hands of a different director, Kieslowski merges visuals with music superbly, in order to perfectly portray the state of our main character, and also make her as understandable as possible. He usually sets our attention on banal happenings that on the surface seem insignificant, such as a sugar cube soaking up coffee or an old woman using a recycling bin, these little details only help to make us understand Julie even more, she tries to forget the overwhelming thoughts that consume her mind by focusing on minor details. Meanwhile, the haunting music in the film serves as a narrative approach, it is a constant reminder of her husband, and it is a constant reminder of her failed attempt at repressing her grief.
I ultimately loved this film and its taken direction of handling such themes, and if "
White
" and "
Red
" are remotely as good as this phenomenal entry, then "
Three Colours
" might just become my favourite trilogy.