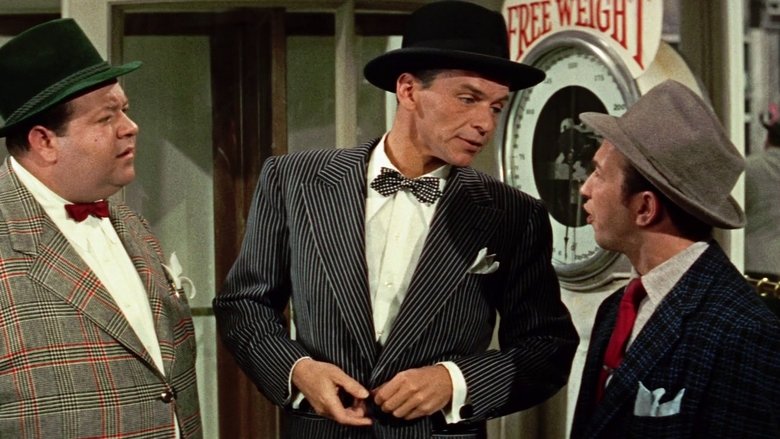 in
Guys and Dolls
(Joseph L. Mankiewicz, 1955)
Frank Loesser wrote the music for
Guys and Dolls
, and it's his most memorable collection of songs. (He also wrote the music for
How to Succeed in Business Without Really Trying, Hans Christian Andersen
and
Where's Charley?
.) Joseph L. Mankiewicz adapted the film version and chose to emphasize the theatricality of the show by filming it
entirely
on soundstages. At first, this may prove a bit distracting, but after awhile, it turns out to be a good idea because it plainly tells you that you're watching a Broadway-based musical, so don't worry about people singing. After all, everybody knows it's a musical, right? The basic Damon Runyon plot of gamblers getting mixed up with the Salvation Army, intertwined with a pair of romances, is solid, and it's also fun to hear the Runyon dialogue delivered by Marlon Brando and Frank Sinatra. Runyon's characters have a specific way of speaking which is both funny and unique.
Much has been made that the two leads can't sing, but I actually enjoy (a lot) Brando's "Luck Be a Lady" and Jean Simmons' "If I Were a Bell". Frank Sinatra has a big moment with "Adelaide" and Vivian Blaine does well with "Adelaide's Lament"; then the two get together for "Sue Me". I'm sure that everybody who ever sees this film remembers Stubby Kaye's "Sit Down You're Rockin' the Boat" near the end of the film.
OK. I can probably go into more detail, but I think I'm going overboard here anyway. The thing is that I have never had a problem with musicals. Growing up, they were always on the TV, and I lapped them up the same way I did my adventures, sci-fis, horrors, westerns. It never occurred to me that people singing on screen was anything stranger than people getting attacked by monsters from outer space. I find it weirder that people enjoy watching torture and dismemberment but think something's screwy when somebody sings and dances down the street. But as they say, to each, his or her own.