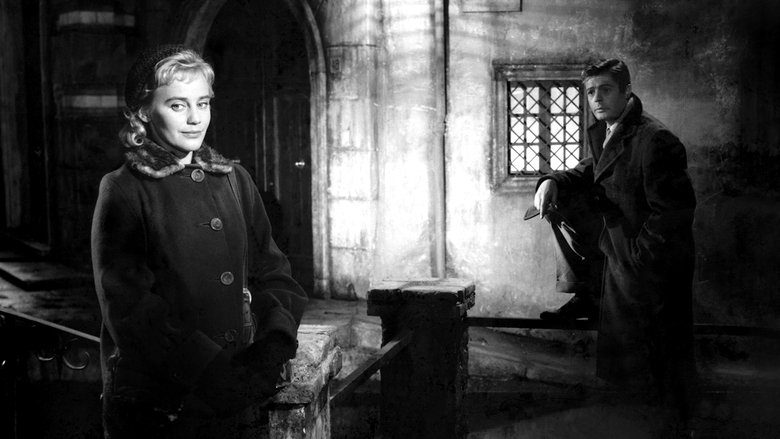 in
Le Notti Bianche aka White Nights (1957) - Luchino Visconti
Le Notti Bianche is Visconti's adaptation of Dostoevsky's short story. It is about an indigent young man Mario(Marcello Mastroianni), who encounters a disfunctional lonely young woman Natalia (Maria Schell) during the night on a city square. Having found her in a very destructive state, he approaches her and gradually starts to interact with her. Throughout the next 4 days, they continue to meet regularly, as Mario's love towards her progressively intensifies. However her heart is already occupied by a man( Jean Marais), who may never return to her again.
Like other two Visconti's pieces I saw, the visuals were carefully sculptured. The first thing that's noticable of the bat is the dark,gloomy and barely lighted city streets in which most of the film takes place, which added a very neorealistic tone to it. The ambient Visconti constructed was certainly one of the film's strongest assets. First half started out quite slowly and I wasn't really hooked on this fairy tale romance, however the second half really picked it up and left me with quite a few mesmerizing scenes. The second part is what really made me love this film, as the distance between the characters and their wavelenghts became very visible, indicating the doom of this untried romance.
I really liked Mastroianni's performance here. He nailed his role as an introverted, melancholic and fatalistic young clerk in a very subtle manner. MM made his character very relatable and pitiable, while not being overly melodramatic. However I wasn't really a fan of Schell's performance. She seemed to overact in certain scenes and she made her character too hysterical for my taste.
One of the most intriguing scenes that really made me appreciate, this film was the dancing scene at the night club. Simply a great metaphore for their uncomfortable relationship. I won't even mention the ending, which was executed and shot brilliantly and has left a profound mark on me.
Great film, that has also inspired me to check out Visconti's adaptation of Camus's "The Stranger" next.
Rating
: