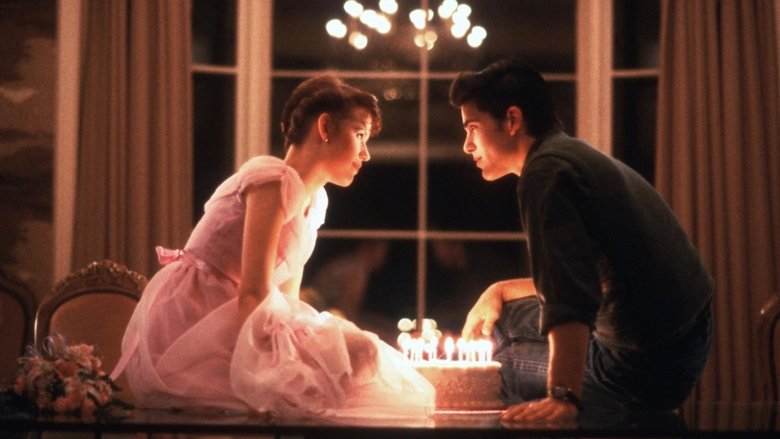 \
in

Sixteen Candles (1984)
Director: John Hughes
Writer: John Hughes
Cast: Molly Ringwald, Anthony Michael Hall, Justin Henry
Genre: Comedy Romance
Length: 93 minutes
Samantha (Molly Ringwald) is turning 16, which should be a very special day for her, but her family has forgotten her birthday. Instead her family is focused on her older sisters wedding. Poor Sam has to suffer all sorts of embarrassments from well meaning grandparents...to the school geek Farmer Ted (Anthony Michael Hall), who has a crush on her and manages to get her panties as a trophy and shows them off to his friends. Worst of all she has a crush on the most popular guy in school, who doesn't even know she exist.
John Hughes
and
Molly Ringwald
were a movie match made in heaven.
Sixteen Candles
was John Hughes directorial debut and it was a huge success for him. This was Molly's second starring role in a film (her first was
Space Hunter: Adventures in the Forbidden Zone
,1983) Hughes considered Molly his muse and built his early career around her. It's hard to image one with out the other. Together they defined a sub genre of Teen Angst films. It's too bad they only made one more film together but it was one of the greats: 1985's
The Breakfast Club.


What makes this film work is director John Hughes understanding of teen angst. It's like someone's entire high school life is played out in 93 minutes by Sam, Farmer Ted or any one of the quirky but yet students who make up this movie. Even yours truly, can remember being in school and having the same sorts of stuff happening. Though the movie makes teen life seem much more funnier!
But you know what makes this film such a classic, is all the various scenes...it's the well fleshed out moments that add zest to the story line. The story by itself would be good but it's the extra side stories that fill out this movie to make a completely satisfy film.





.