in
Stylish direction, an intriguing if slightly predictable story, some offbeat casting, and one of cinema's most memorable musical themes were the primary selling points for the 1944 classic
Laura
.
Dana Andrews stars as Mark McPherson, a police detective who has been hired to investigate the murder of a beautiful socialite named Laura Hunt (Gene Tierney) and as the pieces of her life and the mystery behind her murder start to come to light, the detective actually finds himself developing romantic feelings for a woman he has never met. It also becomes clear that something is not right about this crime as there are way too many suspects, the primary ones being Laura's benefactor, radio columnist Waldo Lydecker (Clifton Webb) and her rather shady fiancee, Shelby Carpenter (Vincent Price).
Jay Dratler's screenplay, based on a novel by Vera Caspary tries to be overly intricate and has a couple of plot holes that you could drive a truck through, but it is well served by director Otto Preminger, who competently mounts the kind of melodrama at which Michael Curtiz, Vincente Minnelli, or George Cukor might have excelled.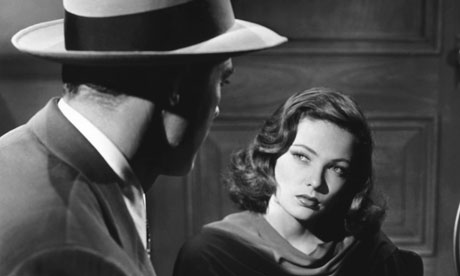 The performances are first rate for the most part...Gene Tierney's ethereal beauty was a perfect face for the title role and Dana Andrews made the most of the best role of his career as a detective who finds personal passion driving his work. And for those who only know his work as a horror movie icon, Vincent Price is an eye-opener as Laura's sleazy fiancee who has a quick answer for everything and is nothing like the guy he appears to be on the surface. Judith Anderson also scores as Laura's friend, who is really in love with Price and wants to steal him from Laura. And what can be said about David Raskin's love theme that hasn't been said? The film also features some impressive set direction...Laura's apartment is beautiful and so is that gorgeous portrait of Tierney hanging over the fireplace. It's a little dated and predictable but still wonderfully entertaining.