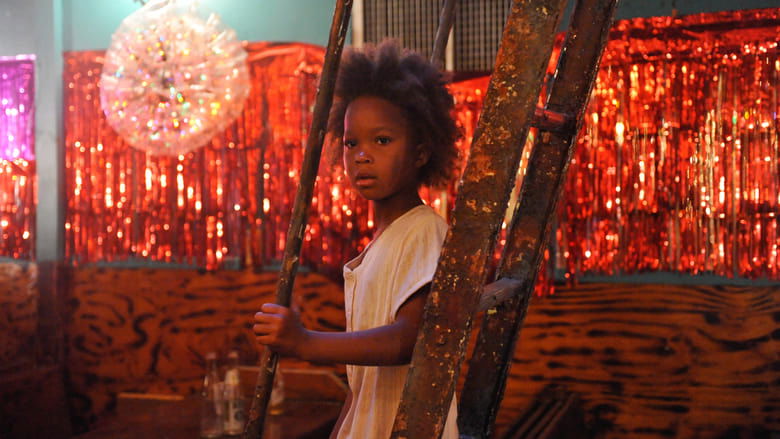 \
in
#309 - Beasts of the Southern Wild
Benh Zeitlin, 2012
As a storm approaches and devastates a remote Louisiana community, a young girl has to contend with her short-tempered father's dangerous behaviour and worsening illness.
Beats of the Southern Wild
delivers pretty much what it sets out to deliver but one has to question whether or not it was really worth delivering. There are plenty of singular attributes that work in its favour - most memorably, the Oscar-nominated performance by 9-year-old Quvenzhané Wallis. Her protagonist is the one that we follow through all the events of the film, which are clearly influenced by the real-world effects of Hurricane Katrina as a massive flood strikes a small area of Louisiana colloquially known as "the Bathtub". She also has to contend with a father (Dwight Henry) that is physically abusive but also has his fair share of complications in regards to his mental and physical health, with the latter implied to be tied to the destructive weather conditions surrounding the Bathtub. Watching this so closely after re-watching
Pan's Labyrinth
only helps to emphasise the whole real-or-fantastic nature of this film, especially since Wallis's character seems to be under the impression that her father's well-being is connected to the adverse effects of the weather (and also the inevitable approach of some prehistoric creatures making their way towards the Bathtub).
Of course, this does make for a very loose and episodic narrative as Wallis's character navigates the area both before and after the flood, interacting with all sorts of distinctive Cajun characters and trying to patch together some semblance of their past lives amidst the destruction. One could draw comparisons to Malick, especially with Wallis's complicated voice-over sounding like it's been thought of by someone beyond her years, and of course the emphasis on imagery over plot. In that regard, it's decent enough, but there's barely anything in the way of personality. Wallis and Henry only go so far in providing solid material for this film, especially considering how both of them are defined by outwardly tempestuous attitudes that disguise some serious vulnerabilities. Of course, it doesn't make for an especially compelling film despite some interesting images scattered throughout the film and as such it just ends up being a rather average example of independent American cinema.