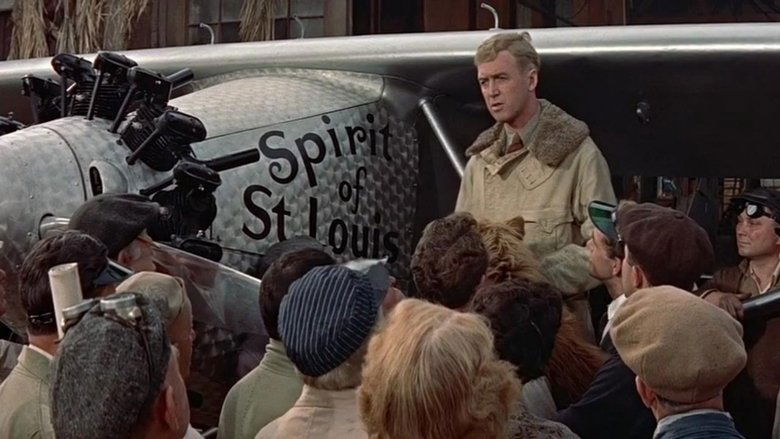 \
in
The Spirit of St. Louis
(1957)
Director: Billy Wilder
Writers: Charles Lindbergh(book), Billy Wilder(screenplay)
Cast: James Stewart
Genre: Biography Adventure Drama
Biography, action-drama film of Charles Lindbergh's life as seen in flash backs by Charles as he makes his historic Trans Atlantic crossing from New York to Paris in 1927.
The Spirit of St. Louis
is not a well known film which is a shame, as it's enjoyable and historical. The film is based on the autobiography of Charles Lindbergh. It was shot in 1955 in the new wide screen process called, CinemaScope and in Warner color too, an early color negative process. With it's wide screen format and actual flying scenes, the film looks great. The story is pretty good too.
James Stewart plays 'Lucky Lindy' Lindbergh. It recounts his early days learning to fly an old WWI Jenny biplane. We see him doing stunt flying in his days with a traveling air show called a 'flying circus'. His early days are told by flashback. The film starts with him trying to get enough money to have a special plane built for the transatlantic crossing. The first man to do it would receive $25,000 . Several aviators had died in the attempt.
Impressive is the actual flying recreation of The Spirit of St Louis airplane. We also see real air footage over the sights of Paris, England and other real locations. As this is a CinemaScope color movie, those rare aerial glimpse are a treasure.
The Spirit of St Louis
might not be the most riveting movie, but worth it just for the historical aspect.
+