in
An entertaining performance from Johnny Depp is the primary reason to check out a 2004 psychological thriller called
Secret Window
.
Based on a novel by Stephen King, the film stars Depp as Mort Rainey, an alcoholic writer who is still stinging from being separated from his wife (Maria Bello) after discovering her in bed with another man (Timothy Hutton), who is confronted by a creepy guy named John Shooter (John Turturro), who accuses Rainey of plagiarism. Rainey is confused when he notes the similarities between what he wrote and what Shooter wrote, despite Rainey's insistence that he wrote his story first. Rainey initially dismisses Shooter, who is insisting that Rainey "make things right", but things get serious when Shooter's harassment turns into genuine threats.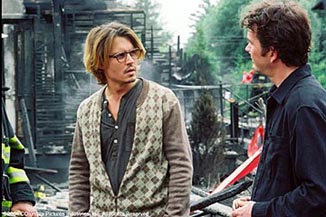 Director David Koepp, who also adapted King's novel into the screenplay, has mounted a glossy Hitchcock-type thriller that manages to sustain suspense, despite the fact that the reveal of what is actually going on here is a bit of a letdown.
Though the screenplay doesn't bear too much scrutiny, the film does have nice production values, including impressive art direction/set direction...I love Rainey's mountain cabin, where the majority of the film takes place...it appears spacious and claustrophobic at the same time. But it is Depp's loopy performance as Mort Rainey that really makes this one tick...Depp manages to overcome the classic alcoholic writer character he has been assigned by injecting a delightfully flip quality to Rainey that makes him a lot of fun to watch.
Secret Window
doesn't quite deliver on what it initially promises, but Johnny Depp's performance will keep you watching.