in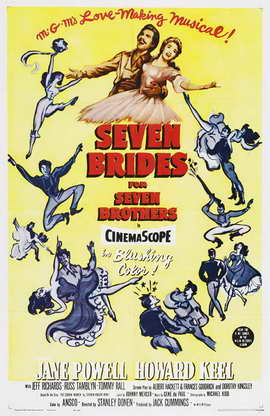 The 1954 musical classic
Seven Brides for Seven Brothers
is considered one of the crown jewels in the MGM gallery, but will primarily be remembered as the movie musical that brought a new respect to the art of choreography and made it socially acceptable for men to be dancers.
The musical stars Howard Keel as Adam Pontipee, a backswoodman/farmer who runs a farm with his six brothers. One day Adam goes into town for supplies and returns with a wife named Milly (Jane Powell), who he has married basically as a maid, to cook and clean for Adam and his brothers. Initially fearful of what she has gotten herself into, Milly takes up the challenge, starting with cleaning up Adam's brothers, who know nothing about hygiene, etiquette, or courtship rituals, but what these guys really need Milly is unable to provide, but when they decide to go get what they want, encouraged by Adam, this creates a riff between Adam and Milly.
Keel's rich baritone serves the role of Adam well and Powell had the best role of her career as the strong-willed Milly. The brothers are played by Jeff Richards, Tommy Rall, Matt Mattox, Jacques D'Ambroise, Marc Platt, and a very young Russ Tamblyn, but these guys were not hired for this movie for their acting ability, but for their ability as dancers and that is the thing that made this film so special. Michael Kidd's inventive and physically demanding choreography is easily the star of this musical. The barn raising sequence is already iconic and deservedly so. Personally, my favorite musical sequence in the film is a number called "Lonesome Polecat", a dreamy ballad performed by the six brothers, accompanied by a harmonica, a couple of saws, and an ax...minimal but magical. Kidd's demanding choreography brought a new respectability to the art of the dance and that it was acceptable for men to dance and still be considered masculine.
The rest of the Johnny Mercer-Gene De Paul score includes "Bless Your Beautiful Hide", "Wonderful, Wonderful Day", "When You're in Love", and "Courtin".
Stanley Donen's spirited direction and some really beautiful photography are the finishing touches on one of MGM's most entertaining offerings. The film also inspired two different television series as well as a Broadway musical.