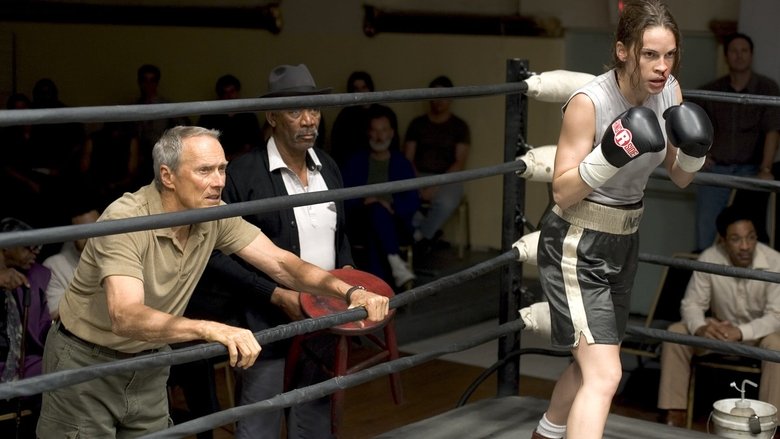 in
The Oscar winner for Best Picture of 2004,
Million Dollar Baby
was a triumph for the creative genius that is Clint Eastwood, who not only provided sensitive, detailed direction to this film, but one of the best acting performances of his career. This moving and inspirational drama was part sports drama, part character study, and part tearjerker.
Paul Higgis' rich screenplay introduces us to a young woman named Maggie Fitzgerald (Hilary Swank) who desperately wants to go where few women have gone...to the top of the world of professional female boxing. Maggie approaches one Frankie Dunn (Eastwood), an over-the-hill-but-in-denial-about-it boxing trainer who now runs his own gym, to train her, despite Frankie's belief that women and boxing rings don't mix. She finally wears him down, partially due to the girl's persistence and partially due to the fact that she reminds him of the daughter who is no longer a part of his life. It is the slow burn of the relationship between Frank and Maggie that makes up the crux of this movie, as Frank not only begins to care for Maggie but also discovers she does have talent as a boxer, but tragedy intervenes, destroying Maggie's career, but not the relationship between Maggie and Frank.
Paul Higgis has crafted a story that unfolds slowly and introduces characters who are vivid, yet flawed and human at the same time. The movie draws us in as a dual character study between this woman determined to succeed in a sport that is not common for women and a man who has devoted his life to the same sport and everything that he had to sacrifice to do so, including a relationship with his daughter. Then just when we see these two really start to connect and find real success together, the story takes a complete 180 when Maggie's career-ending injury puts more of a father/daughter twist on the relationship rather than trainer/athlete.
Clint Eastwood turns in one of the best performances of his career as Frank, the man who finds a reason to live again through the training of this young woman and the affection that he develops for her but is in denial about it. Hilary Swank won her second Best Actress Oscar for her Maggie, a woman whose single-minded focus on a goal may get horribly crushed but her spirit never does.
Morgan Freeman finally won a Best Supporting Actor Oscar for his performance as Frank's best friend, a former boxer who helps him run the gym and encourages Frank's training of Maggie. Freeman, of course, also narrates the story and it's a lovely performance, which I think was honored more as a "Body of Work" award because he has definitely done better work. Mention should also be made of a couple of effective supporting turns from Margo Martindale as Maggie's insensitive, money-grubbing mother and Jay Baruchel as a mentally challenged kid who hangs out at the gym and is denial about the fact that he will never be the boxer he longs to be.
Clint Eastwood has not combined his acting and directing skills together so effectively since UNFORGIVEN and has produced a riveting drama that is deeply moving and will haunt long after the credits roll.