---
Dunkirk
Cast
Fionn Whitehead, Kenneth Branagh, Mark Rylance, Tom Hardy
View All
Crew
Christopher Nolan (Writer), Christopher Nolan (Director)
View All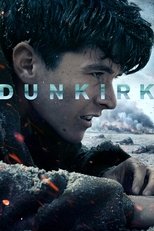 Released: Jul. 19th, 2017
Runtime: 1 hour, 47 minutes
Miraculous evacuation of Allied soldiers from Belgium, Britain, Canada, and France, who were cut off and surrounded by the German army from the beaches and harbor of Dunkirk, France, between May 26 and June 04, 1940, during Battle of France in World War II.
Reviewed by
dadgumblah
There are many stunning vistas caught on screen, including the massive amounts of men lining the long pier known as The Mole while they await their rescue; aerial dogfights that seem a bit more realistic that the average movie plane fights, showing how difficult it is to get an enemy plane in your gun sights; an almost beautiful stretched-out landing onto the Dunkirk beach by a pilot who has run out of gas, showing the lonely stretch of beach, the ocean, and his plane lit by the sinking sun; the regatta of scores of pleasure boats coming to the rescue for the men; the tension of men trapped in the hold of an abandoned ship, waiting for the tide to come in, and being shot at through the hull, with water leaking in quickly.Just so much memorable brilliance packed into less than two hours.

TheUsualSuspect
With Dunkirk, Nolan delivers a pulse pounding war film that leaves the bloodshed at home and instead focuses on the tension and dread one would feel when left alone to die.

Iroquois
The deliberate refusal to place too much emphasis on individual characters may reinforce the chaotic nature of the film, but it's constantly threatening to weigh down the film whenever it suddenly acts like it cares about the personal conflicts that arise between the characters.
View All (8)