---
Black Panther
Cast
Chadwick Boseman, Andy Serkis, Michael B. Jordan, Lupita Nyong'o
View All
Crew
Ryan Coogler (Director), Joe Robert Cole (Screenplay), Ryan Coogler (Screenplay)
View All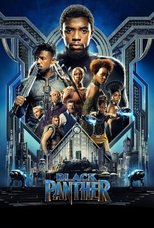 Released: Feb. 9th, 2018
Runtime: 2 hours, 14 minutes
T'Challa, after the death of his father, the King of Wakanda, returns home to the isolated, technologically advanced African nation to succeed to the throne and take his rightful place as king.
Reviewed by

Gideon58
Not long after T'Challa assumes the throne, some Wakandan artifacts are stolen from a London Musuem by Erik Killmonger, who turns out to be T'Challa's cousin and the believed real heir to the throne of Wakanda. Director and co-screenwriter Ryan Coogler puts loving....
TheUsualSuspect
He is challenged for the throne by an outsider who has mysterious ties to Wakanda itself. Will this outsider defeat T'Challa and claim the thrown? What nefarious plans does he have for the city and the world at large? Black Panther is one smooth mofo.
dadgumblah
All the different tribes standing in the side of the cliff openings, wearing the multi-colored robes and gowns, above the waterfalls where the challenge fight took place, was just beautiful.
View All (9)