BANNED
I recently watched the cool WWII action movie
Victory
starring Sylvester Stallone, Michael Caine, Max von Sydow and the legendary Brazilian soccer star Pele. The movie is about a fictional soccer match between a German team and a team of allied POWs held in Colombe Stadium in Paris during WWII. It's directed by legendary film-maker John Huston and is extremely entertaining and has a strong plot. Stallone plays an American POW whose primary interest is escaping while Caine plays a British POW whose primary interest is coaching soccer. But besides all this, the movie is worth seeing for no other reason than to hear Sylvester Stallone speaking French (in a sequence in which, having escaped the POW camp, he contacts the French resistance in Paris). Another reason to watch this movie is the legendary Pele who displays his soccer skills in this movie with an amazing bicycle kick to score a goal at a climactic point in the movie, which is so brilliant that it even has the Nazi commandant (Sydow) applauding him, much to the chagrin of his fellow Nazi officers.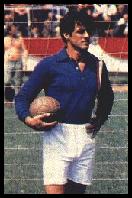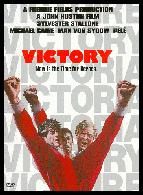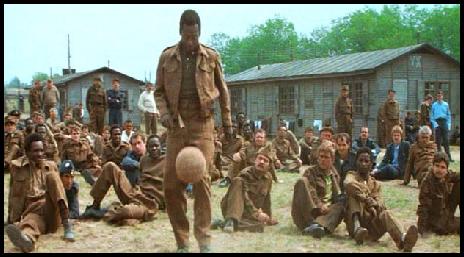 Here are a couple of reviews of this movie from
this
source:
Victory...A Winning Actioneer War/Sports Movie!!

VICTORY is notable for the fact that it was directed by the great John Huston (TREASURE OF THE SIERRA MADRE) and stars an international cast with Sylvestor Stallone, Micheal Caine, Max von Sydow (THE EXORCIST), and Pele(N.Y. COSMOS). Upon its initial release, soccer had become a popular international sport, but war movies were on the decline. Therefore, the movie became a box office obscurity and a forgettable gem. It was probably seen by hardcore soccer fans or devoted war moviegoers. A German officer Major Steiner (Max von Sydow) visits a POW camp, sees some prisoners playing football(soccer) under the coaching of British Captain Colby (Micheal Caine), and gets the idea to stage a match between the allied POWs and a German all-star team. Steiner wants to see the game played for the love of the sport, but when word reaches the Nazi Intelligence, they look at it as a political opportunity to show off the master race. At the same time, Colby sees it as a chance to get some of the prisoners some proper food and clothing, but when word reaches the camp officers in charge of escape activities, they see it as a chance to mastermind an elaborate escape plan. This was a clever plot device in the story. Colby then assembles an international team including Stallone(Hatch), Pele(Fernandez), and other allied players. These roles were filled with other international soccer players of the 70s. The Stallone character is cleverly written is as an American only familiar with American football. He is chosen to be the goalie because he was a wide-receiver and good at catching a ball. The movie moves between some suspense (when Stallone must contact the French Resistance Underground) to sports movie when the soccer game is played between the Nazis and the Allies. There is somewhat of an implausible sequence when the allies have a chance to escape during halftime. From a scene lifted from KNUTE ROCKNE, ALL-AMERICAN (with Pele) crossed with a scene from THE GREAT ESCAPE, they decide to go back and play the Germans because they feel they can win the game. However, it makes for a great climax for the movie because even Steiner (von Sydow) stands up and cheers for the allies with a look of disgust coming from his fellow German Officers and Nazis. Overall, an entertaining, yet forgotten film with a pretty well filmed soccer match. One of Stallones best roles in a supporting performance including a thrilling scene of him blocking a free kick in the game againts the Germans.
Best Football/WW2 movie ever made

Victory is about a team of allied soldiers being made to play a Football match against the German National team during the Second World War.Leading the Allied team is Michael Caine and the players in his squad include none other than The Magnificent Pele and The Legendary Real Life England Captain Bobby Moore.Slyvester Stallone also plays an American who wants to escape using the game as cover but because he cant play Football they put him in goal(and break the real Keepers arm)
The Film is pretty poor and there are some very bad mistakes such as the French fans running on the pitch at the end wearing flares.But it is worth watching for a few reasons though.

1, Michael Caine and Slyvestor Stallone playing Football.

2, Two of the Greatest players ever to play the game(Bobby Moore and Pele)playing Football in a film.

3,Ossie Ardiles overhead flick in slow motion.
Last edited by Django; 01-27-04 at

01:41 AM

.