there's a frog in my snake oil
Oh my god what a beautiful film.
This is an unrequited love story set in Hong Kong in the sixties, and everything about it aches. It aches in an expanding, loving, all embracing way. It slumbers and peaks painfully. It's god damn beautiful.
The two main characters live next door to each other in a slightly delapidated building. Married in traditional Hong Kong society, the woman's clothes may be striking sixties, the man's work-clothes a sharp shirt and tie, but the values are back-room whispers, the norms that clasp any society to their brest, no matter how progressive it all might seem. A friendship of sorts strikes up between them. They both share a love of films and script-writing, though you wouldn't know it at first from their oriental evasion and conceits. Their partners unseen for different reasons, the two strike up a shy kinship. They write together, but nothing is happening of course - yet they take every step to hide their meetings.
But this is no self-referential film about film-making. It's a sumptuosly filmed story, yes. The editing echoes actions, the characters are self-conscious, the translations seem to fit perfectly with mood and context, and the wording is exquisitly balanced. But this isn't about what you write on the page. It's about the spaces inbetween. And these two actors draw round those spaces beautifully, draw through them and dissect them, and so have no need to spell it out. This is an exquisitely acted film.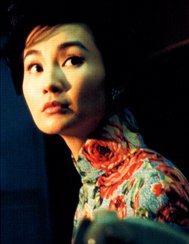 And for that reason, and others, I can't tell you more. The reason for their meetings is a subplot barely worth mentioning. Their reticence an expression of their time. The music sings "perhaps perhaps perhaps", in spanish, with taunting cosmopolitan-ness. And at one point the man shares a thought with a stranger - he talks of the old tradition of carrying a secret into the mountains, carving a hole in a tree, whispering your secret into it, and then covering it with mud. It comes across better the way he says it. And to see what regrets and feelings might be buried in such a place, you'll have to watch it and find out now won't you
.
I really really recommend it. (i must admit that i missed the very beginning of it, but there's something about the elongated tone of this movie that, despite the twists and turns that rise up from its yearning, that you can't help but feel you knew it all along)
__________________
Virtual Reality chatter on a movie site? Got endless amounts of it
here
. Reviews over
here
Last edited by Golgot; 10-23-04 at

04:45 PM

.