Yeah, I actually rented this a few days ago. I couldn't bear to watch all of it; there was some admitted fast-forwarding at times. Still, I knew there'd be two or three bits that would "get" me, and I wasn't wrong. It helps that I could skip the ones that were just flat-out gross, since I wasn't seeing it in the theater.
If nothing else, I probably enjoyed writing this review more than any other review I've written since
Inglorious Basterds
.
Jackass 3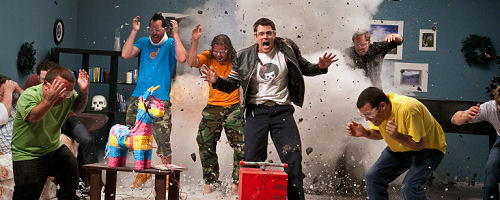 The Jackass men are pioneers of pain; boldly going where no man has seen any reason to go before. They ask the questions the rest of us are too smart to ask. Questions like "what would happen if I launched myself 100 feet over a lake while my friends shot paintballs at me?" The answer is: pretty much exactly what you'd expect.
...READ MORE