Will your system be alright, when you dream of home tonight?
(I searched Land of Lost and nothing came up, so if there is already a thread, sorry)
Land of the Lost (or LotL for the non-anagram impaired) is about Dr. Rick Marshall (Will Ferrell) gets sucked back through time, in one of the time warps (not the dance) he was investigating. The place he gets sucked to is fillled with spectacular creatures, everything from huge crabs, to T-Rexs, to half-ape and half-human people. Also sucked with him is a redneck survivalist named Will (Danny McBride) and research assistant Holly (Anna Friel.) It comes to theaters June 5th.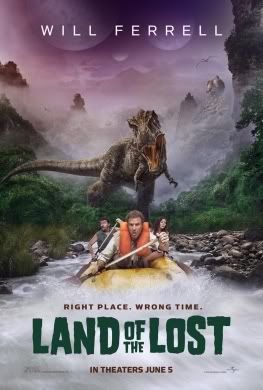 Based off of Sid & Marty Krofft TV series, LotL is written by newcomers Chris Henchy and Dennis McNicholas and is directed by A Series of Unfourtunate Events' Brad Silberling.
__________________
I used to be addicted to crystal meth, now I'm just addicted to Breaking Bad.
Originally Posted by Yoda
If I were buying a laser gun I'd definitely take the XF-3800 before I took the "Pew Pew Pew Fun Gun."