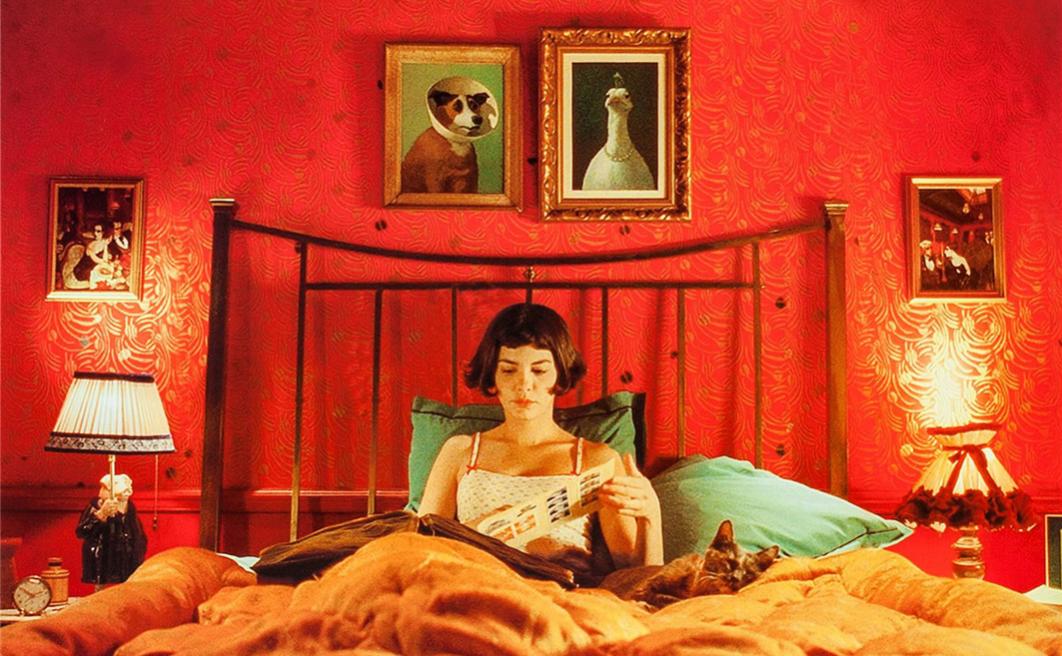 Jean-Pierre Jeunet's
Amélie
has reached America, at last!
I have been looking forward to this one for a long time and I was not disappointed in the least. In fact, I was happily and fancifully blown away. This is one charming and wonderful movie that has become an instant and deep favorite for this fella.
For those who haven't heard anything about
Amélie
- originally known in France by the longer title
Le Fabuleux Destin d'Amélie Poulain
- the title character (perfectly personified by the stunningly beautiful Audrey Tautou) is a young woman living in Paris who has a romantic and unique way of looking at the world around her. Through a series of circumstances she decides to become a sort of secret Blue Fairy, making people around her happy by fulfilling their fondest wishes. Sometimes they are random strangers, more often they are those she knows or would like to know. It kind of defies description because to say too much in the way of plot specifics would spoil some of the natural charm of this story as it unfolds before you.
To call this movie a "romantic comedy" would unfortunately dredge up memories of the forty-dozen
Pretty Woman
wannabes we've all had to endure in the past decade or so.
Amélie
truly has a sense of both Romance and Comedy in purer definitions of those words and never slides toward well-worn genre crud.
It's also a heartfelt love letter to the magic of Paris, just as Steve Martin's
L.A. Story
is to Los Angeles and Woody Allen's
Manhattan
is to New York City.
It is all filtered through the brilliant visions and weird-but-wonderful sensibility of director and co-writer Jean-Pierre Jeunet. Those lucky amongst you will know Jeunet from the work he did with Marc Caro:
Delicatessen
(1991) and
The City of Lost Children
(1995). Jeunet also had the unenviable task of helming
Alien: Resurrection
as his only U.S. feature to date. That movie was easily the worst in the series thus far (hampered by really dumb script), but it did have some beautiful images, and the film's failure can't really be attributed to the skill of the direction. In any event
Amélie
is on the surface perhaps a more mainstream kind of material for Jeunet yet perfectly suited for his visual sense, his comic timing, and his love of offbeat characters. And character actors! Dominique Pinon, who is featured in Jeunet's first three projects, is back again.
Yes, the movie is French, which means most of you will have to read subtitles. But for those who usually don't attend foreign-language films (which is totally and completely your loss, BTW), this one is most definitely worth the effort. But only if you crave a truly wonderful, romantic, weird, and very funny filmgoing experience. This movie is good for the soul, man! Check it out if you get the opportunity at an arthouse near you or DVD in the future.
I'm going back for a second look this week, and likely a third and fourth after that.
__________________
"Film is a disease. When it infects your bloodstream it takes over as the number one hormone. It bosses the enzymes, directs the pineal gland, plays Iago to your psyche. As with heroin, the antidote to Film is more Film." - Frank Capra
Last edited by Holden Pike; 01-23-21 at

05:32 PM

. Reason: adding all the pretty photos