The People's Republic of Clogher
The Three Burials of Melquiades Estrada
(2005, Tommy Lee Jones)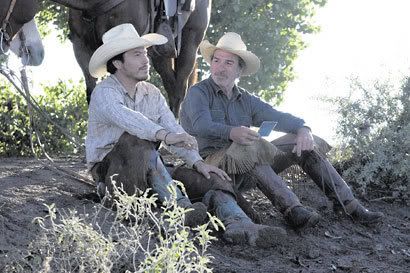 Okie dokie folks, I'll get the ball rolling.
As always, there's no spoiler tags here so if you've not seen the movie and would like to, read on at yer flippin' peril.
I've watched
Three Burials
twice now and think I love it even more second time around. A gentle, reflective and darkly comic perambulation around the notions of friendship, lonliness, guilt, redemption, relationships and probably a host more things.
Frankly, I think it's stunning.
Here's a few points for discussion on which I'll share my thoughts briefly and hopefully in more detail later on.
1. How did you think Tommy Lee Jones handled the directing duties after a 10 year gap from his only other movie at the helm (a TV movie that I either haven't seen or else forgotton all about called The Good Old Boys)?
I think TLJ owes a great deal to the redoubtable Chris Menges and the veteran Roberto Silvi for their cinematography and editing respectively. The ghost of Sam Peckinpah is wandering around, slugging from a whiskey bottle, too, and probably nodding in approval...
From an acting point of view I've rarely seen Jones better. He underplays every scene with a mixture of gruff pathos and wistful regret. Top work.
2. The rest of the cast. Any disagreements with the casting of Dwight Yoakam, January Jones, Barry Pepper, Julio Cedillo and Melissa Leo?
Nada from me - they're all spot on, particularly January Jones and Melissa Leo as the two bored, lonesome women who look at each other and see the older and younger versions of themselves, one resigned to her fate and the other still young enough to change. If only she could...
I also loved The Band's Levon Helm as the old & blind rancher, hanging on to life but wishing for something more immediate than the slow and lonely death to which he'll surely succumb. Parallels with Lou Ann and Rachel?
3. A basic one this - did you laugh?
I must admit to being in fits at Yoakam + cushion, white socks and nothng else in his pair of, admittedly gentle, scenes with Melissa Leo's Rachel.
I also let out a, possibly innapropriate, roar when Melquiades got antsy in the cave with Pete and Norton and when they tried to make him shotgun a bottle of antifreeze.
I'm not going to The Hot Place......am I?
4. The photograph - your take on it please. Was this a fantasy created by Melquiades (to hide his own lonliness, possibly) after stumbling upon a picture containing a family that he'd somewhow walked into the frame of?

Was there something going on in the village concerning his supposed wife? Remember how the two girls started laughing when Pete mentioned her name in connection with another man.

Or was there something else behind it?
Personally I'd go for the first explanation but am willing to be swayed.
5. Do you think Pete intended to kill Norton when they reached their destination and relented after seeing the genuine remorse, or was the journey always intended to be a lesson in life, loyalty and friendship for his younger compadre?
This time I'd plump for the latter but, again, am open to offers...
Ok then, it's over to you. All donations will be greatfully appreciated.
__________________
"Critics are like eunuchs in a harem; they know how the
Tatty 100
is done, they've seen it done every day, but they're unable to do it themselves." -
Brendan Behan