Think you used enough dynamite there, Butch?
watched Double Indemnity last night and since I have exactly the same to say about it as I did when I rewatched it for the Second 40s HoF I'll just cut and paste my review from there: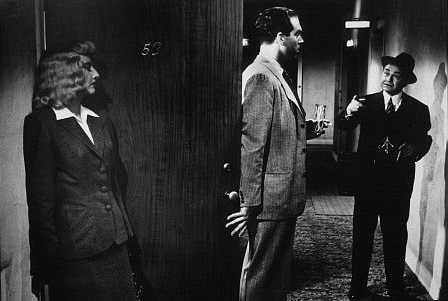 Double Indemnity
Walter Neff:
How could I have known that murder could sometimes smell like honeysuckle?
Considered a MUST SEE for anyone who enjoys noir films this was co-written by a decective-story great, and creator of Philip Marlowe; Raymond Chandler, and his style of colorful penmanship is all over this film.
The other writer? None other than Billy Wilder.
This film has all the usual pieces to a clever scam going to hell. With a femme fatale; Barbara Stanwyck, whom I really love when she plays it tough. When she plays the nervous/scared damsel it doesn't seem real. Or perhaps that's the point, since it's all a charade anyway. One you can see on multiple scenes when she watches Murray's character walk away; and if you know what you're looking for, you do see behind the mask. Though she does hide it VERY well.
She truly shined in the final confrontation. Sitting coldly on the sofa as things fell apart between her and Murray and the tension was very well done.
As for Murray, he played the sucker perfectly. Making the plays and the orchestrating the plans without the slightest clue he was the one being used. Though I must say I never had any sympathy for him, while I did enjoy him trying to play it cool.
But I really think that has to do with the bias of being so used to him playing Walt Disney films when I was a kid; like Flubber and Shaggy D.A. Never mind the sitcom; My Three Sons. So any time I ever watched this, those characters always stuck in my head.
The final character, Murray's boss played with his usual excellence is my man Edward G Robinson. I think some of my favorite scenes included Murray and Robinson; especially the closing scene of this movie.
__________________
They say: that after people make love there's a kind of melancholia, the petite mort, the little death. Well, I'm here to tell you, after a romantic night with yourself there's a very acute sensation of failed suicide. ~Dylan Moran
Last edited by edarsenal; 04-04-20 at

02:53 PM

.