Think you used enough dynamite there, Butch?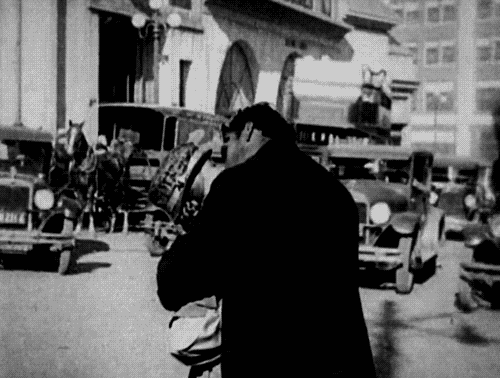 Sunrise: A Song of Two Humans
Opening Title Card:
This song of the Man and his Wife is of no place and every place; you might hear it anywhere, at any time.
For wherever the sun rises and sets, in the city's turmoil or under the open sky on the farm, life is much the same; sometimes bitter, sometimes sweet.
Placing 3rd in our Pre-30s Countdown and winning the Best Picture Oscar, directed by a visual genius, FW Murnau, this WAS one of those great films I needed to see.
Like many, I had known of
Nosferatu
and, with the Pre-30s Hall of Fame, I had nominated another of his,
Faust
. Setting the bar high for the visual magick of Murnau in this romantic fairy tale. And It was easily met and easily cleared.
From the double exposures to setting the couple in traffic and transforming the backgrounds, there is some amazing innovative photography tricks that express emotion far more than dialogue could.
I thought George O'Brien did exceedingly well as The Man. Some of his more tortured moments, such as out on the rowboat had futures shades of
Frankenstein
's Colin Clive to his performance.
Playing his wife, Janet Gaynor whom I was introduced to in
Lucky Star
and
7th Heaven
is at her most adorable, most kind and loving, to the point of sainthood.
Even though the story is incredibly simplistic, it is the imagery that delves so deeply and illustrates the emotions and thoughts so beautifully that places this film to its well deserved heights.
In its time, I have heard a number of people recommend, praise and insist on me watching this, so I am a bit hard pressed to guess who nominated this.
But, like all of the previous ones so far, THANK YOU
__________________
They say: that after people make love there's a kind of melancholia, the petite mort, the little death. Well, I'm here to tell you, after a romantic night with yourself there's a very acute sensation of failed suicide. ~Dylan Moran