Howdy, Buckaroos and MoFos.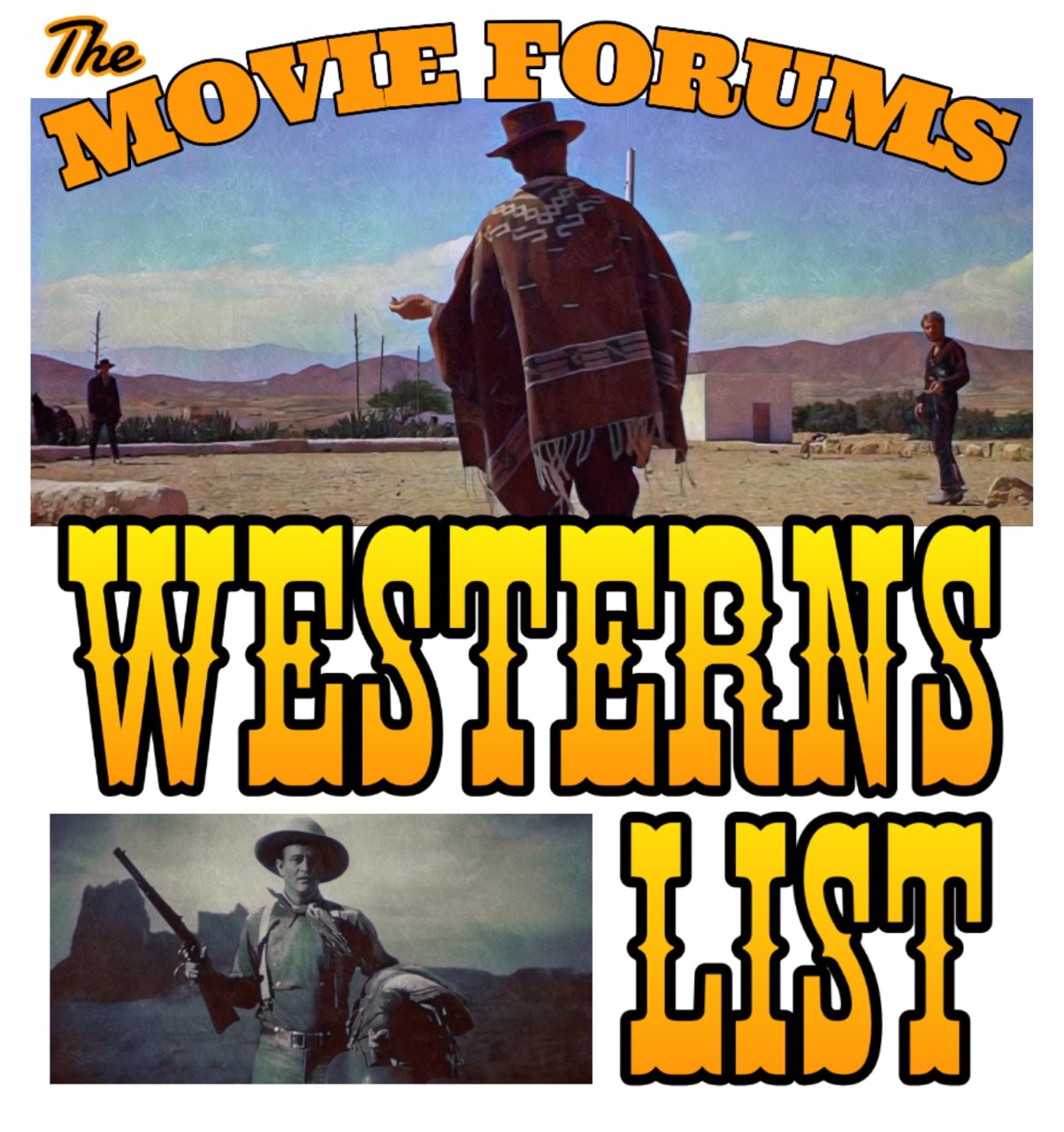 Some of the first images ever put to celluloid were of cowboys and bandits. From Edwin S. Porter's
The Great Train Robbery
(1903) and the Silent era Westerns to the advent of sound and the first master of the genre, John Ford, the Western has fueled the cinematic imagination. By the '40s and '50s Westerns had become a staple of Hollywood, even if too often they were thought of as B-movie fare by the Studio heads. When television hit pop culture Westerns were arguably
the
most popular genre on the airwaves, but rather than kill their cinematic predecessors it helped evolve the movie Western into something even grander. By the 1960s it was time for a Revisionist take on the now well-known themes, led by Sergio Leone in Europe and Sam Peckinpah in the U.S. of A. In the blockbuster era that began in the mid-'70s and exploded in the '80s Westerns were a genre that fell largely out of favor, but they endured, winning Best Picture Oscars and inviting every new generation of filmmaker and visionaries from all over the globe to make the genre their own. With larger than life movie stars from John Wayne and Randolph Scott to Clint Eastwood and Charles Bronson, the heroes, villains, anti-heroes, and Native Americans, the gunfights, pioneers, lawmen, and the lawless, all against the expansive landscape of the American frontier, Westerns are an important and lasting part of cinema.
Time for a Westerns movie roundup, I reckon.
The subjects change, but the rules remain (mostly) the same:
Submit your ranked list of twenty-five titles, numbered 1-25 with no ties, to me via a private message with the title "[Your Username] - MoFo Westerns List".
Films will be awarded points as follows: 25 points for 1st place, 24 points for 2nd place, 23 for 3rd and so on, all the way down to one point for your 25th placed film.
Partial lists are accepted, but you must list at least ten and they still must be numbered.
Please include at least each title's year of release on your ballot to avoid confusion with similarly titled films or different versions of the same material.
New members can send in a list as long as they've been a member here for one month before the deadline. This measure is taken so that the list isn't jerry-rigged by people who have been here for a week and then disappear.
Films that are part of a series (as in Leone's Dollars trilogy) must be submitted as separate films.
TV mini-series, such as "Lonesome Dove" and "The Sacketts", are not eligible. Made-for-TV projects that are feature length are fair game. Shorts are eligible.
Films listed as the Western genre on IMDb are eligible for our list.*
Anyone who reveals their list before the countdown has ended will be disqualified. Don't make me come back there. I will turn this thing around, so help me!
The deadline for entries is May 15th, 2020. That's six full months. Plenty of time to review favorites, discover new ones, and order a list.
*new eligibility wrinkle
There is a change we are going to try for this list. Unlike release dates genres are arguable things, therefor the IMDb listing will
not
be the final word in eligibility. In the previous genre list for Horror movies, several canonical titles (including
Jaws
) were deemed ineligible simply because the IMDb didn't list them as Horror. In an attempt to if not eliminate then at least legislate this issue, any title you find that is either listed as a Western and you don't think should qualify or more likely titles you believe are Westerns but the IMDb has buried the lead, please either message me or post them here in this thread. This is intended to be a transparent process fueled by discussion. We'll see if it gets more contentious than a sack full of rattle snakes?
The IMDb ain't perfect. It's a tool, and as MoFos we can use it as we see fit. I would rather have informed discussions about what does and doesn't constitute genre than blindly follow a gigantic, sometimes flawed database.
The number of ballots and votes will determine if this list tops out at a hundred or fifty. So saddle up!
__________________
"Film is a disease. When it infects your bloodstream it takes over as the number one hormone. It bosses the enzymes, directs the pineal gland, plays Iago to your psyche. As with heroin, the antidote to Film is more Film." - Frank Capra
Last edited by Holden Pike; 05-12-20 at

05:05 PM

.