#19.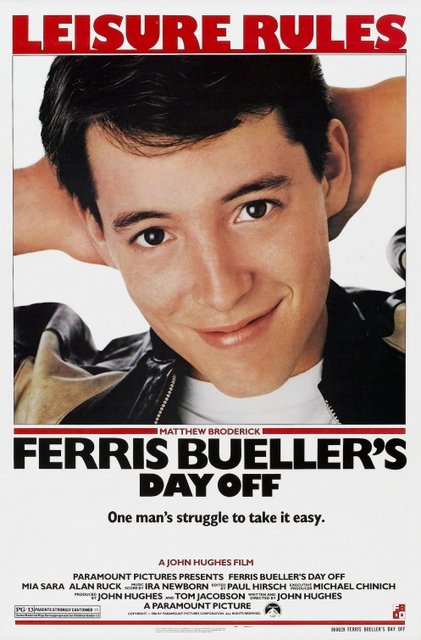 Ferris Bueller's Day Off (1986)
Director: John Hughes
Writer: John Hughes
Cast: Matthew Broderick, Alan Ruck, Mia Sara
Genre: Comedy
Runtime: 1 Hour and 43 Minutes
Rated PG-13
This fun movie brings us on a great adventure about a high school slacker playing hooky from school. Also bringing his two friends along to join in on the fun and outsmarting the principal at school while he tries to catch Ferris in the act of playing hokey. Imo, I think Matthew Broderick did a great job with his role as Ferris.
"Life Moves Pretty Fast. If You Don't Stop And Look Around Once In A While, You Could Miss It." - Ferris Bueller played by Matthew Broderick
Ferris Bueller's Day Off
is a good movie, but it's never been one of my favorites. It's one of those movies that I can watch every once in a while, but I never really go looking for it.
__________________
.
If I answer a game thread correctly, just skip my turn and continue with the game.
OPEN FLOOR.