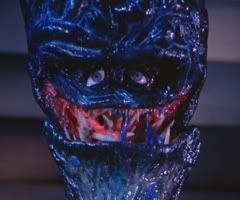 Brain Damage (Frank Henenlotter 1988) Trash rating
Frank Henenlotter is best known for his 1982 no budget offbeat horror flick
Basket Case,
the story of a boy who keeps his deformed siamese twin in a picnic hamper. Since then he's stuck firmly to the horror genre, with (my personal favourite) the hilarious
Frankenhooker
(1990), and two duff sequels,
Basket Case 2
(1990), and
Basket Case 3: The Progeny
(1992).
Brain Damage
was Henenlotter's belated follow up to his original cult hit, and like most of his movies he wrote the screenplay, and edited the film himself.

In the film we follow Brian (Rick Hearst) whose eccentric elderly neighbours Morris and Martha (Theo Barnes & Lucille Saint-Peter) keep a strange unseen pet called Elmer in their bath. We know he's strange because they like to feed him brains (complete with sprigs of parsley) from the local butchers. Naturally Elmer goes missing, much to the dismay of Martha who has Morris turn the apartment upside down looking for him. Enter Brian who whilst lying on his bed experiences (in the words of Rimmer from Red Dwarf) what can only be described as a voyage to trip out city. The next day he awakens to find that Elmer (a parasitic over sized truffle voiced by John Zacherle) has taken up residence on his person. Elmer (or Aylmer) is able to deliver 'Juice' a powerful psychotropic drug directly to Brian's brain, resulting in euphoric halucinations. Brian quickly discovers however that the drug doesn't come free, as Elmer needs human brains as sustenance, and regularly offs unsuspecting members of the public whilst Brian is stoned. Horrified Brian tries to take control of Elmer, but soon realizes he's desperately addicted to the 'juice', and nothing more than a junkie chasing his next fix...
Brain Damage
is easily Henenlotter's best film (which probably isn't saying much), certainly more interesting and technically proficient than
Basket Case
. The cast are all good here, in particular Hearst who really convinces as the strung out addict losing his mind. There's also a rather nice 80's electronic soundtrack giving the film a dreamy ambient atmosphere, plus a decent nightclub sequence featuring The Swimming Pool Cues playing their song 'Corrosion'. Henenlotter himself described the film as a cross between Roger Corman's
The Trip
(1967), and William Castle's
The Tingler
(1959), which is certainly a fair comparison. In reality though you could be forgiven for viewing the film as a second rate cross between David Cronenberg's
Shivers
(1975) and V
ideodrome
(1983).
Where
Brain Damage
falls down is in the hallucination sequences which are disappointingly underwhelming. Whether due to lack of budget, or simply imagination, what are supposed to be the films crowning glory never rise above generic 80's pop video imagery. It's a shame that Henenlotter seemingly put most of his energy into the films gore sequences, the nastiest of which were heavily censored on the films initial release (most notably a scene involving felacio, now restored to the Synapse dvd). With that said however,
Brain Damage
still effectively conveys its anti drugs message, and remains watchable (if uneven in tone) throughout. I'd even go as far as to recommend this film to fans of the genre looking for something a little different. Look out for Kevin Van Hentenryck (Dwayne from the
Basket Case
films) who cameos with his basket in the subway sequence.
Last edited by Used Future; 09-24-09 at

06:12 PM

.