By The poster art can or could be obtained from the distributor., Fair use,
https://en.wikipedia.org/w/index.php?curid=50235396
The Neon Demon
- (2016)
I'm kind of unsure where I sit with this Nicolas Winding Refn effort - it's one of those good films that made me feel really bad. There's a dark sickness twisted into it, such as with the whole 'Lolita' bit at the hotel our protagonist Jesse stays at - but I like the weird stuff that might allude to things like the mountain lion which stows away in Jesse's room and the interesting eating habits of the faux-witches late in the piece. I generally have a negative vibe when it comes to modelling - the whole industry built off insecurity and exploiting young girls - but in a horror film with many in-built criticisms of the whole 'trading on your looks' theme this movie should sit very much right with me. I especially like dream-like imagery, and this is definitely one of those films that becomes more abstract and dream-like as it goes. I have a feeling that if I watch this again I might enjoy it more - but for now I'm not jazzed as I was when I saw
Only God Forgives
. Reminded me a little of
Black Swan
.
7/10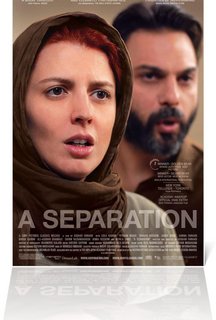 By CineMaterial, Fair use,
https://en.wikipedia.org/w/index.php?curid=59130336
A Separation
- (2011) - Iran
My second go-around with this, and it's just great. From start to finish
A Separation
keeps you thinking and questioning yourself and the characters in it. Beautifully scripted with nuances and complexity - yet it's straightforward and filmed to near-perfection. Most films clearly illustrate good people and bad people, but here it's shades of good and bad which point more to the situations the characters find themselves in rather than something intrinsic inside of them. Through it all comes not just the one 'separation' between a husband and wife, but many separations in Iranian society - perhaps alluding to the ultimate philosophical concept that we're really all alone - and connecting with another person is an illusion. A simple and very real story about being wronged - depending on the point of view.
9/10
By
http://membres.lycos.fr/jeanreno/films/nikita.html
, Fair use,
https://en.wikipedia.org/w/index.php?curid=7816620
Nikita
- (1990) - France
I was so tired when I watched this, but I still liked it - the story of a female gang member and hood who is convicted of murder and then turned into an assassin - getting a second chance but living a murderous false life she hates. Throughout the second half of the film you're on her side, but lets not forget she did kill someone without scruples earlier on. Best thing about this film are the missions - all carefully set up, they play out step by step and are exciting, taut and very well shot.
7/10
By
www.affichescinema.com
, Fair use,
https://en.wikipedia.org/w/index.php?curid=7816526
Subway
- (1985)
Another Luc Besson film, this time set during around 24 hours in a Paris Subway with a thief (Fred - played by Christopher Lambert) making a getaway and coming into contact with a whole underground of petty criminals who live there. It doesn't have much of a plot - mainly characters spend the whole film looking for other characters, and it's the people themselves - their quirks and mannerisms - that make up the movie. Lambert is very charismatic in this, but I felt pretty lost without a story to follow.
6/10
__________________
My movie ratings often go up or down a point or two after more reflection, research and rewatches.