A system of cells interlinked
Tac: GTA:SA does look rough around the edges, but it's a great game, and HUGE. I mean, just massive. I enjoyed playing it.
Speaking of huge games, my girl is -playing through this:
Final Fantasy XII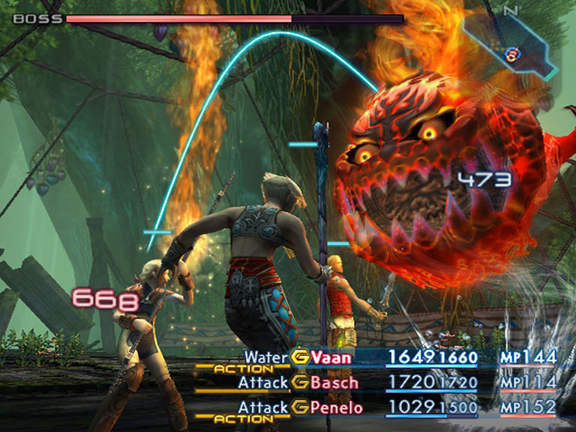 I had already finished this game, managing to complete maybe 80% of the side quests, as well. I logged about 140 hours in on my run (!!!)
I am actually having even more fun playing it the second time. I mean, Lisa is playing the game, and she loves it, so I play here and there and sit back and enjoy the story, while thinking up kooky gambit strategy etc. I must say, the game is playing much differently this time around, as she is developing her characters in a different way, and has to approach the game with different strategies. She is also doing alot of the side quests/general exploring in a much different order. The flexibility of the game, for an RPG, is pretty deep. Although somewhat linear as far as story progression is concerned, everything else is pretty non-linear. She is doing side quests at different times, and in a different order, and the world is pretty much open.
I am marveling at the high production quality of this game. The story is presented in a more mature way than any other FF title. FFVII still has the craziest, most involved story in the series to date, but that story was also extremely obtuse in comparison. This writing is more elegant and more mature in many ways. A fine send-off to the series for the PS2...
__________________
"There's absolutely no doubt you can be slightly better tomorrow than you are today." - JBP