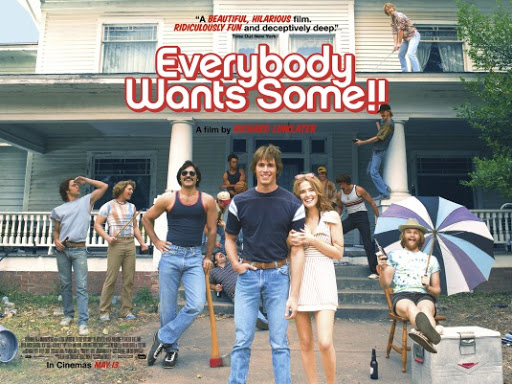 Never mind the short-shorts. Or the crop tops. Everybody Wants Some is all about the present. Like anything distracted by its own youthful vigor, its characters are preoccupied with only one thing: Right Now! Today! Even if this moment is the 1980ís and what they are embracing was so long ago now.

But even if those up on screen have little interest in the past, and would already be bored by whatever future we are looking back at them from, some poor souls in the audience might not be so unfettered from dwelling over such things. With regrets and worries dislodging them from a present of their own, they come to this nostalgia trip with a need to once again fit inside a moment. Find themselves an eternal legwarmer they can curl up inside of and dream they never went out of fashion.

Maybe Everybody Wants Some is that legwarmer, or maybe it isnít. Depending on what time one grew up in, it might not be a one size fit all comfort. What is universal about the film though is its tactile understanding of transitional moments in life. More than anything else, this movie is a memory of those times in our lives that are so brief they never really had a chance to feel lived in, only remembered. Everybody Wants Some allows us to crawl back inside the first few days of being a college freshman on campus, with an understanding of what a wonderfully disorienting feeling it is when everything is new, and we donít know anybody. A place that will only last as long as we can stay lost in it. By the time we have begun to remember names and no longer need to ask directions to help get around, it will cease to exist. We can only stay here until we decide who it is we are going to be. Then it is shut off from us forever, becoming a place we only think back on when we wonder who we could have been instead.

But at least now we have Everybody Wants Some to provide us a window back here. A gracious leg warmer with an unobstructed view to way back. 80ís accessorizing has never seemed so functional.

All too often though coming of age films such as this seem written as if from the perspective of someone looking back. Those who know where life is heading and exactly where its pitfalls and tribulations lie. While this Ďwisdomí allows for us to know what outcomes and choices we need to root for, it also canít help but corrupt the experience of re-living the past as if it were still the present. What a blessing it will then be when Everybody Wants Some offers us Jake Bradford as our chaperone through these first days of campus life. Hardly speaking a word about the future, and showing no concern over what path he should even be taking, Jake is possessed with the sort of confidence that allows him to focus only on the moment he is inside of. And his undistracted view of this is somewhat of a revelation.

In devising a fish out of water story where the fish not only has legs, but already knows how to strut, Jake is allowed to shrug off any need for a narrative arc or have any sort of deep character revelation. Unmoored by these typical hangups of who he should befriend or what life path he should choose we are permitted to instead focus on all of the small details that now fill his life. The unimportant moments that make up these revelatory days. The sort of things that will one day become lost beneath the wave of bigger and better stories that are inevitably on their way. And to do so we will only need follow Jakeís directionless swagger from drink to drink, nightclub to nightclub, girl to girl and conversation to conversation. Itís likely that some of these people and events we are introduced to might still matter to him many years later. Others might not even be remembered the next morning. But Linklaterís decision to never differentiate between any of them gives the film itís indelible sense of Now. At least (paradoxically) to those who are watching from our adulthoods.

And so it will be for us in the audiences that this film, so purposefully youthful and lighthearted on its surface, has a sense of being haunted. We can sense the ghosts of all of the paths that will not be taken. Our own lives are, after all, filled with bit players who for a short time could have been friends, but werenít. And places we enjoyed being, but it turns out, would never visit again. LIkewise, this film throbs with this endless sense of possibility, and for us that know better, there is a beautiful sadness wondering who and what will be left behind, remain undiscovered, neglected or forgotten.

Rarely has a film understood this sort of transience with such a sense of dispassionate longing. It treats youth as it is, always moving forward, some dreams and friendships and promises being kept, while others fall off and jingle jangle away before anyone hardly notices. It is a time when ambassadors of both our past and future comingle, and the only way we will ever know who is who is to wait, until we grow older and can look back at everything that has been lost to us. And everything that is still here.