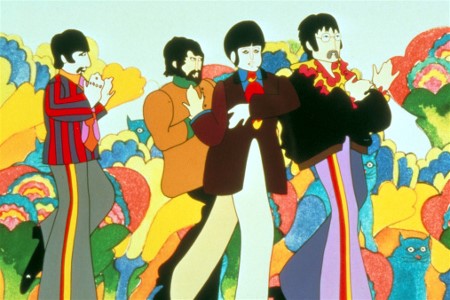 Yellow Submarine
(George Dunning, 1968)
Imdb
Date Watched:
08/25/2020
Cinema or Home:
Home
Reason For Watching:
23rd MoFo Hall of Fame, nominated by HashtagBrownies
Rewatch:
Yes.
It's a rare occasion that we get an animated film nominated in a general Hall of Fame and, as a lover of animation, I should be
absolutely delighted
that this time around we've got TWO of them. I should be. I am not.
We've somehow managed to get two animated films that I don't like (and neither of them are even Miyazaki!
). But whereas the other mostly suffers from not having any nostalgic value for me, this one has that and a few other issues. The biggest issue is that I am not a Beatles fan. They have some songs that I like and I've enjoyed some of the work that each member has done separate from the band, but I am not a Beatles fan and so the music is not really a plus here. (The fact that I despise most musicals doesn't work in its favor either). What's also not a plus for me is the style of the animation. The 1960s were before my time and I'm not one to partake in illicit substances so the psychedelic colors don't really appeal to me. My sobriety and general dislike of fantasy didn't exactly help when it came to trying to follow the bonkers story either (Between the Meanies, the Kinky Boot Beasts, the Boob, and the Dreadful Flying Glove, what the **** was even happening in this movie? Nevermind. Don't answer that. I don't actually care). So ultimately I was left in a state of both boredom and confusion, which does not make for a particularly pleasant movie watching experience, but at least it is pretty short.
__________________

Last edited by Miss Vicky; 10-11-20 at

07:56 PM

.