The Little Foxes
A bone-chilling, Oscar-nominated performance by Bette Davis is the centerpiece of the 1941 film version of Lillian Hellman's most famous play
The Little Foxes
, a sizzling family drama that invented a lot of the entertainment genre that has come to be known as the soap opera and its influence on the genre lives on today.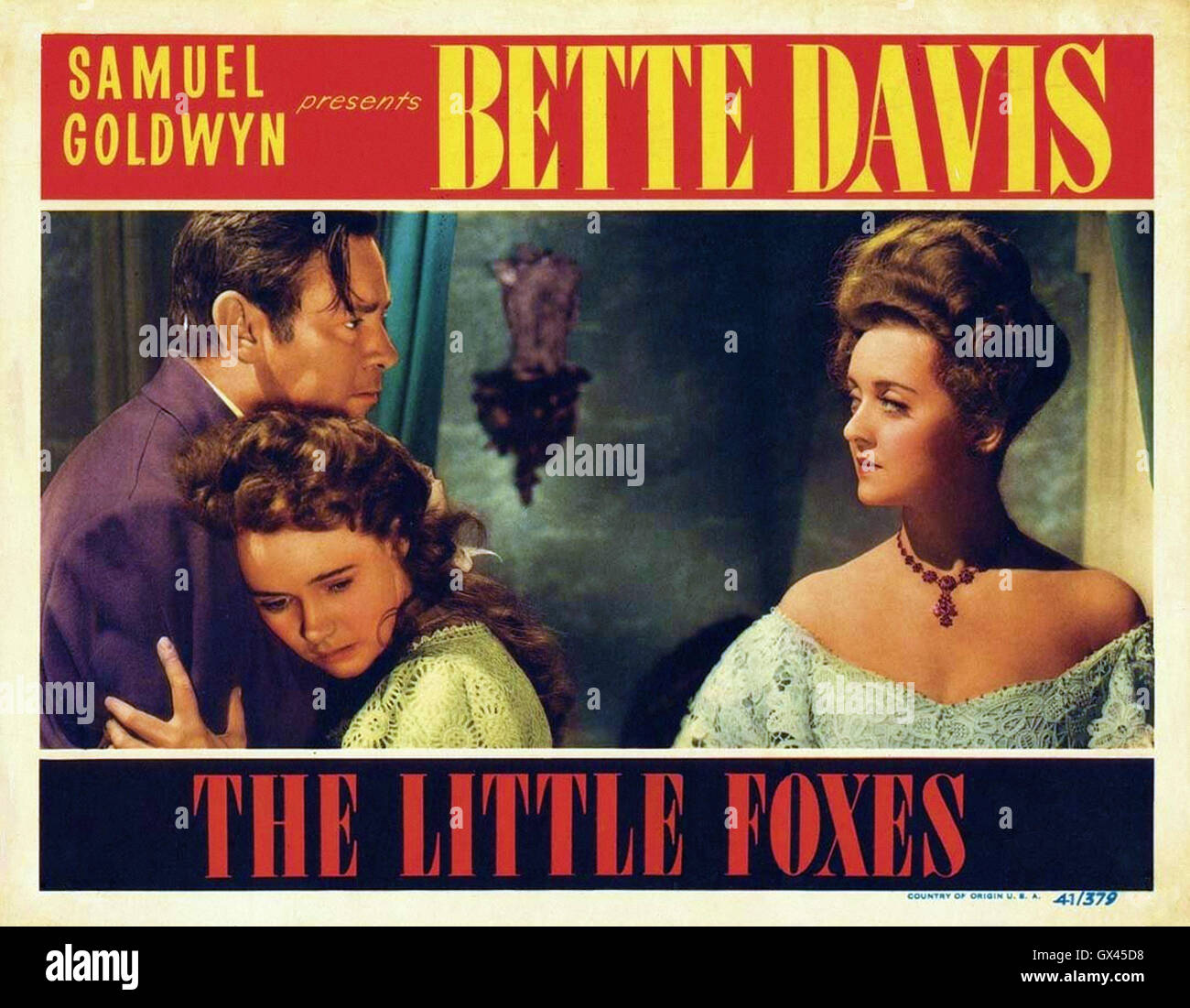 Davis stars as Regina Giddens, a wealthy matriarch in turn of the century deep south who is anxious to participate in an important business deal with her brothers Oscar (Carl Benton Reid) and Ben (Charles Dingle). Regina is unable to participate without her husband, Horace (Herbert Marshall) who still controls the purse strings. Horace, however, is in a hospital in Baltimore being treated for a terminal heart condition. Regina sends her daughter, Alexandra (Teresa Wright) to Baltimore to bring her father home, but Horace is not so easily swayed and though Regina asks for more time to persuade him, Oscar and Ben have figured out a way to close the deal and cut Regina out, thanks to Oscar's wimpy son, Leo (Dan Herlihy).
Other pertinent players in this potent melodrama include Birdie (Patricia Collinge), Oscar's flighty, chatterbox of a wife, William Marshall (Russell Hicks), the man who initiates this all-important business deal, and David Hewitt (Richard Carlson), the handsome aspiring writer who is in love with Alexandra and would love to free her from Regina's tentacles.
Hellman's play premiered on Broadway in February of 1939 and ran for over 400 performances with Dingle, Reid, Herhily, and Collinge originating the roles they play in this film. Fortunately, director William Wyler probably took a calculated risk replacing the legendary Tallulah Bankhead with Bette Davis, but this was a risk that totally paid off. Anyone who follows my review thread knows that I have seen a healthy chunk of Davis' work and I have never found Davis more chilling onscreen. There was a moment where Ben is questioning Regina's next move in persuading Horace and she turns to him and says "I know what I'm doing" and I swear a chill went down my back. The look on her face when Horace drops his medication and her reaction to Horace trying to climb the stairs to get to his medication are images that are burned into my memory forever. After seeing this film, I am of the opinion that this film should have won Davis a third Oscar and is probably her finest performance.
I was also very impressed with Teresa Wright as Alexandra and loved the substance she brought to this seemingly simplistic character. The chemistry she created with Carlson was charming and she actually holds her own opposite Davis, which I think was enough to earn her a Best Supporting Actress nomination, but this movie is the Bette Davis Show all the way and anyone who has ever doubted the power of this actress need look no further than this classic that defines the soap opera genre. Just about anything ever seen on
Peyton Place
,
Dallas
, or
Dynasty
owes something to
The Little Foxes
.
Last edited by Gideon58; 4 weeks ago at

10:38 AM

.