Now THIS is a Danish filmmaker we should all be discussing right. Hot off the ultra cool Drive, Winding is set to tackle, Muay Thai, sex tourism, vengeance and, of course, extreme violence in his second collboration with The Gosling and his 10th feature length film,
Only God Forgives
.
Winding Refn made his debut in the mid 90ís (my favourite decade of cinema) with the crime drama, Pusher. Itís the tale of Frank, a lower level drug Ďpusherí who finds himself in increasingly desperate situations when he is forced to pay a debt back to his boss, Croatian drug lord, Milo. Shot on a micro budget in Denmark, the film has seemingly been tagged with the ĎTarantinoesqueí tag, but I would say that itís a world away from Tarantinoís. As the Refn meister himself has said, Ďhis films arenít about crime, but people in a criminal environmentí.
Refn followed up
Pusher
with
Bleeder
. A very brutal tale of the horrors men are capable of and their inability to commit to the opposite sex. Itís not as well known as Pusher, nor is it as accessible, but itís message regarding these themes penetrate without pretentiousness.
Fear X
, his first US film, is another one of his more underrated efforts. It stars John Turtturo, as a security man who investigates his wifeís mysterious death. Itís a well constructed thriller that firmly shows the unhealthy nature of obsession. It didnít do well commercially, and it even bankrupted Refnís own production company, but itís still a must see if youíre a fan of Refn.
Returning to his roots, Refn decided to film
Pusher's 2
and 3 back-to-back, with great results. Pusher 2 is my favourite of the trilogy, a sly oedipal tale starring a tremendous Mads Mikkelsen (whoís character had been upgraded to lead from a smaller role in the original film) as Toni, arguably the most foolish criminal youíve ever seen on a film that isnít a comedy - as well as the most redemptive. At least for me. This film, unlike the other two, hints at hope amongst the grime and horrors or urban life in Copenhagen.
After completing his trilogy, Refn went on to direct
Bronson
, Miss Marple tv movie (???),
Valhalla Rising
and, of course,
Drive
. I think that he is the most exciting filmmaker who isnít Christopher Nolan working in the industry today. This is a man who is still finding himself and growing with each film, for better or for worse.
Refnís characters are flawed anti heros. And by that I mean REAL genuine anti heros. Ryan Goslingís nameless driver is as close to a good bloke as youíll see in a Refn film, and even he has suppressed brutality in him. All these anti heroís resolutions are as ambiguous as the men themselves. Kim Bodniaís Frank is left pondering whether to run or face the music at the end of
Pusher
. Milo (
Pusher 3
ís protagonist) finds himself in a similar spot to that of Frank, the man who owes money to him, and his fate and stance in the criminal underworld is questioned after disposing of a nastier gang of Albanians near the filmís climax. Itís not clear whether Driver survived the ending of Drive. The direction of these people is never clear.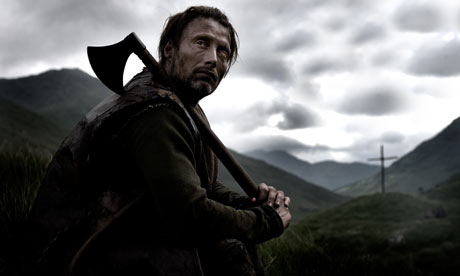 Bronson
, based on the infamous crook from Luton, is a summary of a hard man who, through books and other mediums, has suggested that he has lead a threatrical life and exciting life, although that last lingering shot in the film would suggest otherwise. Heís another of Refnís anti heros who commands revulsion and interest at the same time.
For me, his best films are
Drive
and
Pusher 2.
All the others range from interesting to great.
Valhalla Rising
, a film that commands a deeper thought process of symbolic images, is a film I need to see again. Visually, it truly is a work of art, but I have not taken the time to consider what I saw beyond that.
This is the interesting thing about Refn, he has a fatherless filmmaking style as far as aesthetics goes. He started out with that frenetic paced cinema verite, handheld style about urban gang culture in grimy city areas, yet his latter films have been slow moving, slow building, more contemplative with stiller shots and stronger more pleasant looking cinematography. Perhaps it can be taken as a sign that he is maturing, perhaps heís just purposefully schizo in his approach to cinema, who knows.
I do know that his fascination with violence and inevitability of it will continue regardless of the type of film he is making. This is the man who once said Ďviolence is a lot like f**king in fron of Bill Turnball on an early morning BBC broadcast
I anxiously await
Only God Forgives
, and the bloodshed that will come with it.
So what are peopleís thoughts on this man and his films? What are your favourites? What do you like, donít like? Do his themes hold weight? Is he the second coming of Martin Scorsese?
Last edited by The Prestige; 02-14-13 at

03:17 PM

.