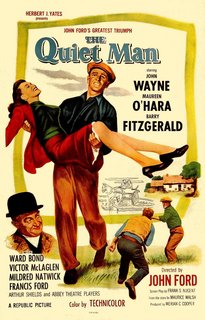 By May incorporate artwork by Clement Hurel - see Nollen, Scott Allen (2013) Three Bad Men: John Ford, John Wayne, Ward Bond, McFarland, p.*352 ISBN: 9780786458547. - Public Domain,
https://commons.wikimedia.org/w/inde...curid=18565484
The Quiet Man
- (1952)
Stunningly beautiful in more ways than one - a film about a man who returns to his birthplace, allured by it's serene perfection, but somewhat nonplussed by all the traditions, rules and customs he's met by. I would have said John Wayne is a little miscast as Sean Thornton, but Danny Peary awarded him the (alternate) Oscar for best Actor - it's a great role and I'm sure he appreciated it. The Oscars it did win in all actuality were for cinematography and Ford as best director. Great love story and comedy. Really enjoyed it.
8.5/10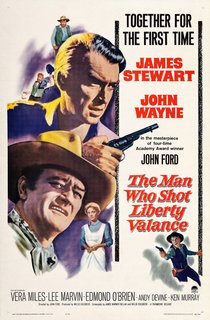 By "Copyright © 1962 Paramount Pictures Corporation and John Ford Productions, Inc." - Scan via Heritage Auctions. Cropped and lightly retouched from original image; see upload history below for unretouched original., Public Domain.
The Man Who Shot Liberty Valance
- (1962)
Wow - this might actually go down as one of my favourite Westerns, competing against the likes of
3:10 to Yuma
,
High Noon
and
Unforgiven
. James Stewart plays Ransom Stoddard, a senator and lawyer returning to a town he once lived in - just in time for the funeral of old friend Tom Doniphon (John Wayne). Here, he's waylaid by reporters sniffing out a story, and he finally decides it's time to come clean about something he's famous for - the shooting of Liberty Valance (Lee Marvin). Stewart and Wayne are terrific as two opposite ends of a spectrum - a person who believes in the law, and the other in frontier justice - but the real standout is Marvin, oozing an evil, threatening aura to the extent that I can nearly smell his sweat along with the booze and tobacco he probably reeks of. It all comes together with great meaning and drama, the tension leaving one on the edge of their seat. The end of my little John Ford festival reaches it's climax with what I believe will be my favourite of all his films - though
Stagecoach
and
The Quiet Man
are right up there.
10/10
Both thumbs way, way up for these two films. I agree with your assessment on both, although "Quiet" was a 10 for me. Both films are always good for re-watches.