Night of the Blood Beast
- 1958 scfi schlock. Shot on a budget of around 68,000 dollars and does look threadbare. Or maybe it was the crappy print I found on youtube. I watched this about a week ago and I'm having trouble remembering all but the most basic of plot elements. An astronaut dies while in space, or maybe he dies when his rocket ship crashes. Anyway his team recovers his body and brings it back to their tracking station. While there his body reanimates. Turns out the he picked up some alien hitchhikers that want to use his body as an incubator. It's not remotely as interesting as it sounds and this was an egregiously low energy movie.

25/100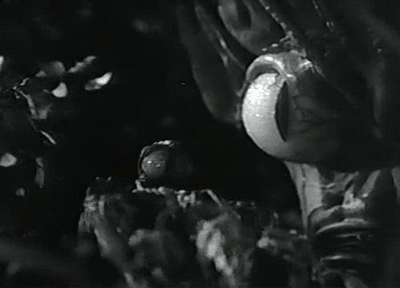 Invasion of the Saucer Men
- From 1957 and just as dull and poorly made but in a different way. Aliens land near a small town's lovers lane and it falls to a group of teenagers to battle them. The alien makeup is better than Night of the Blood Beast (which was just laughable) but the actual reveal is so sporadic and poorly shot that it's mostly confusing. It really leans heavily on the "this is a wacky comedy" bit without really earning any honest laughs. Not much in the way of tension either if you don't count the odd disembodied hand crawling around. My experience might have had a great deal to do with the terrible copies I watched. At any rate you probably shouldn't bother wasting your time on either of these dogs.

35/100