So, I was watching Batman Forever on tv today (No, I don't hate myself), and it got me thinking about rating every movie villain so far, from Burton to Nolan's trilogy.
To refresh your memory of the players: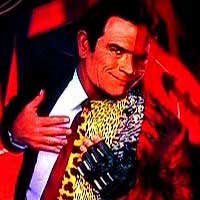 Nicholson Joker
- Excellent performance, and Burton really captured the Joker. Only complaint is that he killed Bruce's parents, really unnecessary.
DeVito Penguin
- Excellent performance, another great job by Burton at understanding the character.
Pfeiffer Catwoman
- Really sexy, really disturbed. Solid character, but her whole intro to the character was kind of weird to me.
Jones Two-Face
- Horrible. Just horrible. Couldn't tell if it was Two-Face or the Joker at times, a complete waste of a great actor.
Carrey Riddler
- Really liked Carrey in this, good casting. Writing was still off, but probably Schumacher's best villain (not saying much).
Arnold Mr. Freeze
- It's quite an achievement when the cartoon version of your character has more emotion than you. Good job Arnold!
Thurman Poison Ivy
- Nothing special on the acting side, and I guess Schumacher got the character, kind of.
??? Bane
- That's not Bane.
Murphy Scarecrow
- Some good acting for what he had to work with. I didn't see much character motivation from Nolan's writing, made him more of a henchman.
Neeson Ra's
- Great job from Neeson and Nolan on this one. For a realistic Batman, this is probably as good as this character can get.
Eckhart Two-Face
- Good acting, much better version, but I didn't like it too much either. There's still room for a great Harvey Dent in the future.
Ledger Joker
- Excellence performance, a really dark and psychotic take on the character. Definitely Oscar worthy.
Hardy Bane
- Hardy's a badass, and he broke the Bat, so I'm happy. I'd still like to see a Bane that's similar to this, but actually on Venom.
Hathaway Catwoman
- Another sexy Catwoman, good character portrayal to shut up critics.
Cotilard Talia
- Good acting, but the character was 'meh' overall.
So what's your opinion?
__________________
Here, if you have a milkshake, and I have a milkshake, and I have a straw. There it is, that's a straw, you see? You watching?. And my straw reaches acroooooooss the room, and starts to drink your milkshake... I... drink... your... milkshake!
-Daniel, There Will Be Blood