Here's my
review of Cloverfield
, which I saw late this afternoon. It would be fair to say I was pretty blown away by this movie. I despise "shakycam" and have never found it effective in drawing me into a film, but the execution here was flawless. I bought into it completely, and left the theater feeling both exhilarated and a little exhausted.
Cloverfield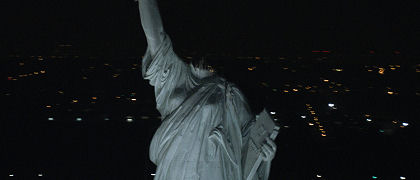 If you're reading this review, you probably already know a few things about
Cloverfield
. You probably know it's shot from a first-person point of view via camcorder. You probably know that it's supposed to be "found" footage, rather than an actual film. And you probably know that it documents an attack on Manhattan by an enormous monster. But none of this really conveys the film, which flaunts convention and possesses an elegant restraint unheard of in its genre.
Cloverfield
opens early in the morning, and shows us two happy young people who've just spent the night together; they are Rob (Michael Stahl-David) and Beth (Odette Yustman). It jumps forward several weeks, and we learn that Rob has taken a prestigious job in Japan, and his friends are organizing a going-away party. Rob's friend Hud is assigned the task of taping goodbyes from everyone for Rob to watch on the plane, making him our guide through the film's perils. We see only what the camcorder sees.
After the attack begins, the characters attempt to escape the city. Their escape is thwarted, and Rob receives a call from Beth, who left the party early and is injured across town. Though their relationship is tentative and unfulfilled; Rob's feelings have gone largely undeclared, and he ventures back towards the danger with several others.
The opening scenes are sure to frustrate superficial viewers who only came for the carnage. Nevertheless, they're well-acted, and they lay a foundation that pays considerable dividends in the second half of the film. Somehow, writer Drew Goddard manages to establish distinct personalities and relationships and imbue them with depth in just 20 minutes. Though the characters are a bit too pretty to qualify as genuinely realistic, the opening scenes do just enough to draw you in before the film's massive antagonist so rudely interrupts.
From that point forward, the characters spend the majority of their time struggling to survive, all the while gathering bits of information and theories about what the creature is, and where it came from. The film never gives us any direct answers to either question; it's more concerned with the effect than it is with the cause. It builds steam and piles one layer of tension on top of another as the nature of the threat comes into view and evolves.
The creature itself is neither a retread, nor particularly revolutionary. There are, after all, only so many possible designs available for such a creature, and this one is as near to being unique as one could reasonably hope.
True to the film's setup, we don't get any perfectly framed, prolonged shots of the monster.
Cloverfield
is determined to sell the "found footage" gimmick through to the end, and lets Hud's camcorder bear witness to a few scattered television reports to give us some wide shots of the beast. Though many films employ handheld cameras to try to immerse us in the action, most fail to situate us properly and only generate frustration. But
Cloverfield
makes the technique work and never lets us become too disoriented, even though it sometimes look like a bootlegged version of itself.
Director Matt Reeves seems to know that every glimpse will inevitably diminish tension, and gives us just enough to know what we're up against, though viewers will still be hard-pressed to describe it afterwards. Its most important characteristic, however, is a vague other-worldly quality that the human mind registers as simply unnatural. Whatever it is, it looks fantastic, as do all of the film's effects.
More
Jaws
than
Deep Blue Sea
,
Cloverfield
never gives into the temptation to expand its scope or saturate us with money shots. Despite its gimmicky format, it manages to weave a narrative through what's ultimately a series of jump cuts. It is an uncommonly daring disaster film that spends its entire runtime alternating between utter chaos, unthinkable levels of destruction, and unbearable tension.
Last edited by Yoda; 04-30-08 at

11:14 PM

. Reason: Added border to image.