Bright light. Bright light. Uh oh.
Let's Spend the Night Together
(Hal Ashby, 1982) +
Gentleman's Agreement
(Elia Kazan, 1947)
Jimmy Dorsey and His Orchestra
(Lloyd French, 1938)
Mother!
(Darren Aronofsky, 2017) -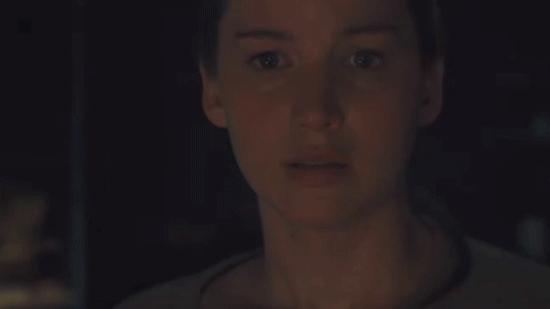 Wife Jennifer Lawrence finds some strange things in her basement when she's left alone after some "guests" get violent and her husband Javier Bardem accompanies them to the hospital.
Bargain Madness
(David Barclay, 1951) -
Stronger
(David Gordon Green, 2017)
The American Success Company
(William Richert, 1980)
your name.
(Makoto Shintai, 2016)
Two young people, who have never met but have dreams about the other, come to an important place and feel each other's presence.
The Walking Stick
(Eric Till, 1970)
It's Always About the Story: Conversations with Alan Ladd, Jr.
(Stanley Isaacs, 2016)
Christmas, Again
(Charles Poekel, 2015)
Chariots of Fire
(Hugh Hudson, 1981) +
The iconic Vangelis theme. Cinematography by David Watkin. Starring Ian Charleson, Ben Cross, Alice Krige & Ian Holm.
For Me and My Gal
(Busby Berkeley, 1942)
The Above
(Kirsten Johnson, 2015) -
The Boss Baby
(Tom McGrath, 2017) +
Whose Streets?
(Salaah Tolayan & Damon Davis, 2017)
Protesters of the many incidents of racial profiling in Ferguson, Missouri, including the shooting death of Mike Brown and the non-indictment of the police officer involved, are examined from the perspective of many of the activists and the national and local media. Probably won't change anyone's opinion, but still eye-opening, especially for those unfamiliar or neutral.
Unseen Guardians
(Basil Wrangell, 1939)
A History of Violence
(David Cronenberg, 2005) +
Jonah Hex
(Jimmy Hayward, 2010)
Antiporno
(Sion Sono, 2017) -
Highly-stylized and unpredictable satire of modern art, filmmaking, sex, the cult of personality and mental illness, featuring Ami Tomite and Mariko Tsutsui.
__________________
It's what you learn after you know it all that counts. - John Wooden
My IMDb page