Chappie doesn't like the real world
Welcome to the first Horror movie Hall of Fame. Enter if you dare!
All those who signed up in the other thread are signed up. No need to do it again, just send me your nomination.
It's not too late to join in the fun. You can still sign up here. There will be a special Noir HoF going on at the same time.
If
you can keep up, you're more than welcome to join both.
I'm going to give one week to send in nominations and for others to sign up if they wish to. Please make sure your nomination sits firmly within the horror genre. You may scream at the site of a small deer but that doesn't make Bambi a horror movie.
1.
The Haunting
(1963 Robert Wise)
Nominated by HoneyKid
2. Rosemary's Baby (1968 Roman Polanski)
Nominated by Moviemeditation
What I absolutely love about Polanskiís horror classic and the horror genre in general, is when things are left for the viewer to decide, and with this movie that particular element is executed effortlessly. Just one time in the entire film we are introduced to something, which is shown explicitly as inhuman and supernatural, however even this scene is shown in a quite dreamy and nightmarish manner. My point is; everything of which could place this film in the horror genre is hidden underneath, though it always feels constantly present, and in that way works much stronger, than when leaving everything out in the open. So namely because of its obvious themes and the underlying layers of satanic ritualistic movements, it is undoubtedly a horror film; but especially because of its dramatic and grounded approach it is only truthfully a horror film on the inside. This perfectly balanced combination gives Rosemaryís Baby a true and versified sense of terror and fear, which is even better realized when held together by the sensitive and tightly written script, and the controlled claustrophobic direction.
3.
The Abominable Dr. Phibes
(Robert Fuest, 1971) Nominated by
Swan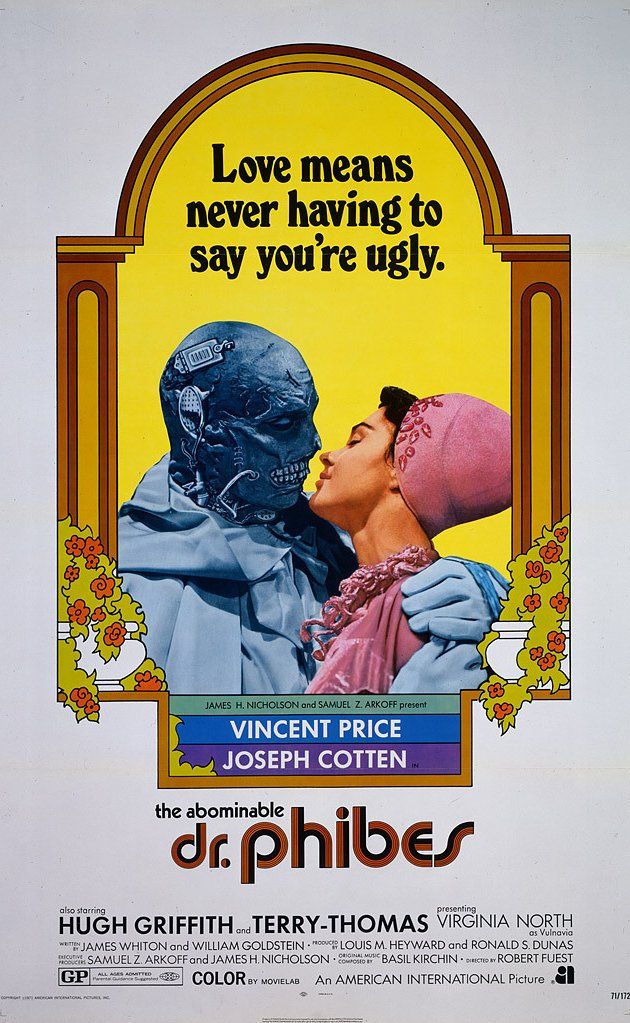 This was a big movie in my childhood, and one of the films (along with Corman's Poe adaptations, among others) that seriously sparked a love for Vincent Price that continues to this day. Such a great, tortured character in this as well. All around great movie that is in serious need of a rewatch for me, which is part of why I'm nominating it.
4. The Night Stalker (1972 John Llewellyn Moxey)
Nominated by Hello101
5. Suspiria (1977; Dario Argento)
Nominated by Jiraffejustin
I'm nominating Suspiria, because it's the most stylish horror film of all-time. With dazzling camera work, a vibrant color palette, and a fantastic Italian prog-rock score, no other horror film has ever generated this level stylistic panache.
6. Nosferatu the Vampyre (1979 - Werner Herzog)
Nominated by Sane
A genuinely creepy remake that succeeds thanks to Herzog's focus on visuals and atmosphere, and the performance of Klaus Kinski.
7.
Possession
(1981 Andrzej Zulawski)
Nominated by The Samoan Lawyer
11.
May
(2002 Lucky McKee)
nominated by Godoggo
In the horror genre so many movies follow the same formula, but May is one of a kind. It's a well written, funny and slightly bizarre movie with enough gore to satisfy the hard-core horror fans.
The character of May is played to perfection by Angela Bettis, who I adore.
I feel the originality, writing and acting of the lead actress makes this a worthy contender for the hall of fame.
12.
The Ring
(2002 Gore Verbinski)
Nominated by Rauld
13.
A Tale of Two Sisters
(2002 Kim Jee-woon)
Nominated by Gatsby
14. Alyce Kills (2011 Jay Lee)
Nominated by Cricket
This is a recent horror that I've seen that I thought was pretty excellent. I don't consider it to be an all time great, and I don't expect it to finish very high in this Hall of Fame. I just think it's a very good horror that most members probably haven't seen, but one that most would enjoy. It's currently available on Netflix streaming.
15. You're Next (2011 Adam Wingard)
Nominated by TheUsualSuspect
You're next is my pick simply because I think more people should watch it. It's not particularly scary, but in place of that is sheer joy. It is an insanely fun take on the horror of home invasions. Just tongue in cheek enough to get a laugh and a head nod of understanding in what direction they wanted to take the film in. Don't go in looking for surprise twists, even though the film tries to offer one. Just sit back, relax and enjoy the hilarious carnage the unfolds.
.
Last edited by Godoggo; 02-11-15 at

11:45 AM

.