Think you used enough dynamite there, Butch?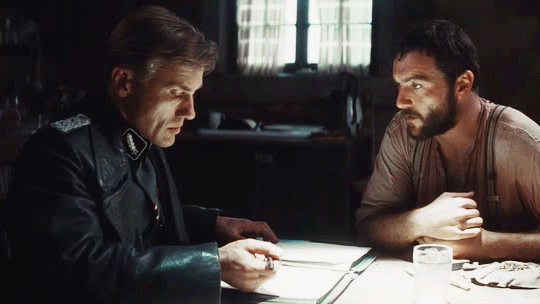 Inglorious Basterds
Col. Hans Landa:
[to Perrier LaPardite]
I love rumors! Facts can be so misleading, where rumors, true or false, are often revealing.
For quite some time I have held this film just beneath the echelon of huge favorites of Tarantino films, this recent viewing may have cracked open a hole in the floor of that echelon.
Reason being: that while Tarantino's trademark episodic film making has pretty much nailed it from his very first film, (and my favorite of them all)
Reservoir Dogs
, with Basterds, there is a stumbling that has caused it to reside beneath the others. Much like the hidden family beneath LaPardite's floorboards.
Why it worked so well with others, the most famous being
Pulp Fiction
is the use of placards. Placing the end of one episode and the beginning of another. We do not have it here and because of it, I have stumbled over the switch-overs instead of glide over them.
BUT,
Surprisingly, there was a gliding over and sans stumbling whatsoever, this time around.
Could it be I have watched this enough times since the first time in the cinema that I instinctively know where one episode ends and the next begins? And therefore my perception has already made the transition without need of a placard?
Could be.
In fact, it's most likely.
I think it is, anyway.
Which is great, because it is a helluva film with all the nuances and devices that I've come to love from the very first time I rented
Reservoir Dogs
and was so frickin happy to see actual "dialogue" as opposed to "catch phrases" that had become such a horrible staple in the 80s Action genre. And while, at times, in some of his films, conversations DO get a bit long in the tooth, (for me it was
Death Proof
) the ends to that means, aka the sh#t storm that erupts, is always a great payoff. And, of course, we have it here, in the incredible opening scene that some critique as placing the bar far too high for the remainder of the movie; to the tavern that is, to Aldo's agitation, in a BASEMENT.
Like so many Tarantino flicks, there are "moments" that stick out and make me smile just thinking of them.
Landa smoking that humongous Sherlock Holmes pipe that dwarves LaPardite's pipe. To Hitler's tantrum, pounding on the desk, raging, "Nein! Nein! Nein! Nein! Nein!"
Which is one of those "lines" that gets repeated in our household A LOT.
So, along with being a film I've enjoyed, multiple times, previously, I have an extra thanks for this specific viewing that has allowed me to glide over the bumps.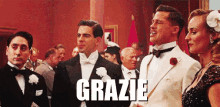 __________________
They say: that after people make love there's a kind of melancholia, the petite mort, the little death. Well, I'm here to tell you, after a romantic night with yourself there's a very acute sensation of failed suicide. ~Dylan Moran