Saw this one yesterday, and posted this
review of The Bourne Ultimatum
in the
reviews area
:
The Bourne Ultimatum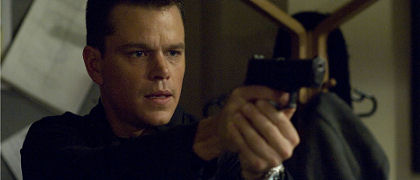 In recent years, Hollywood has caught onto the idea that gritty realism attracts moviegoers just as well as glitzy spectacle (and usually costs a good deal less). Even James Bond, who was dodging satellite lasers in massive ice castles just five years ago, has gotten wise to this fact, and he owes a debt to the character of Jason Bourne for last year's successful reboot of his iconic franchise.
The Bourne Ultimatum
is what every third chapter in a trilogy should be: dense, polished, and better than its predecessors.
Set shortly after the events of
The Bourne Supremacy
, the film focuses on Bourne's attempts to discover the last few pieces of his past, including the man (or men) who he believes are ultimately responsible for what he's become.
Though this film stretches reality a little more than the first two (especially in regards to Bourne's ability to withstand physical punishment), it remains stunningly plausible. The technology is eminently possible, and is impressive largely because of the ingenuity with which it is employed. Leave it to the
Bourne
franchise to turn even spy gadgetry into a method of character development.
Matt Damon is quiet and understated, and conveys a drive and singularity of purpose consistent with Bourne's struggle to reassemble his personal history. He takes a tremendous beating, but limps away every time. One gets the feeling he would not particularly mind these beatings (or even death itself) if it did not prevent him from learning the truth about his past.
There are a few moments that will prompt incredulity on the part of the audience. Some of these are stunt-oriented, but a few seem to require that we forget that Bourne knows all of the protocols of the people chasing him. It also asks us to forget that they know he knows, and would presumably factor that into a few crucial decisions. Nonetheless, Bourne's ghostlike movements seem to inspire fear even in the people hunting him, to the point where such obvious mistakes fall short of becoming outright plot holes.
Somehow,
The Bourne Ultimatum
never wears thin, despite the fact that it's practically one giant chase scene. It is fast-paced without feeling rushed, and patient without feeling slow.
More impressive than any of these things, however, is the agonizing patience with which it reveals its back story to us (and Bourne, for that matter). In a lesser series, Bourne's story would have been divulged all at once at the end of
The Bourne Identity
, probably in a 5-minute rush of exposition. But here, his discoveries are stretched over three films. Information trickles out, sometimes without any buildup or warning.
Damon has said that this is to be the final film in the franchise. That is, of course, far from certain, though it is hard to imagine anyone else in the titular role. Audiences may accept a series of actors playing a character like James Bond, who is more abstract concept than relatable human being. Jason Bourne, however, has real depth, and one gets the feeling that moviegoers would not respond well to a series of actors in the role.
Regardless, though the story is somewhat open-ended, it gives us (and Bourne) a reasonable amount of closure. We learn new things about the character, and a pleasantly surprising theme about choice and independent thinking emerges in the third act.
Fast, and well-constructed,
The Bourne Ultimatum
refuses to sacrifice its realism for a cheap thrill. It is an exciting and satisfying conclusion to an exceptional trilogy.
And yes, that's 6 straight reviews wherein I've given the film at least 4 out of 5 stars. But hey, it's a been a good couple of weeks, movie-wise.
Last edited by Yoda; 08-06-07 at

07:55 PM

.