11 Foreign Language movies to go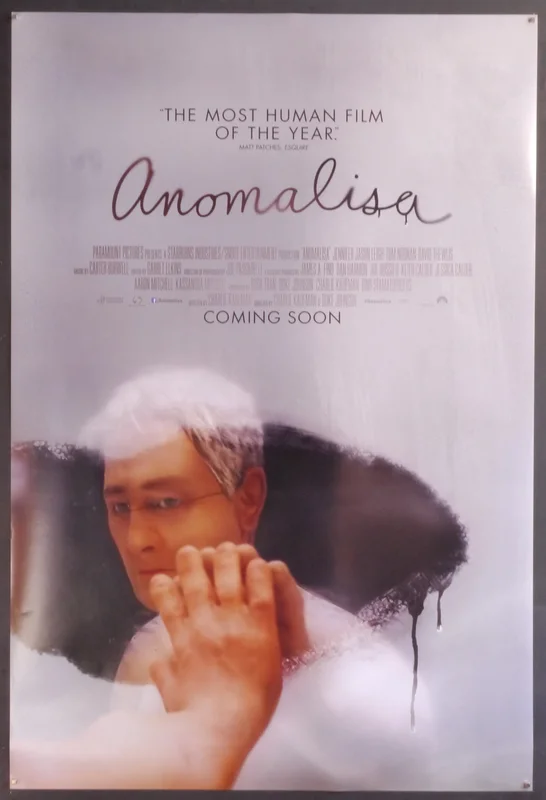 Anomalisa - (2015)
Directed by Duke Johnson & Charlie Kaufman
Written by Charlie Kaufman
Starring David Thewlis, Jennifer Jason Leigh & Tom Noonan
This review contains spoilers
I must be blind.
Anomalisa
contains a hidden surprise that, once known, seems rather obvious - but this observation seems small or cosmetic when considering how the film gets across what it means emotionally and thematically. As a whole, it's an interesting mix of the simple and mechanically complex. Stop-motion animation has been employed to bring it's story to life - one that began it's life as an audio play, and one that benefits from animation due to a central need for 'sameness' and duplication when it comes to almost all of it's periphery characters. This is because main character Michael Stone (voiced by David Thewlis) has something that relates to a Fregoli delusion - he sees everyone he comes across as basically the same person, in looks, feel and sound. It's something that disoriented me at first, with even female characters being voiced by Tom Noonan, who plays all characters who aren't Stone or the lady he meets in this film, Lisa Hesselman (Jennifer Jason Leigh).
Michael Stone has just landed in Cincinnati, on his way to the Fregoli Hotel for the night before a speaking engagement about customer service. He's married and has a child, but being in Cincinnati brings up an old relationship he fled before settling down - and he proceeds to call this woman, and invite her to meet up with him. The meeting doesn't go well, but afterwards he happens to hear a voice in the hotel hallway - one that stands out from all the exact voices Michael hears all the time. He desperately searches from room to room, eventually coming across a pair of his most ardent fans - Emily and Lisa. After drinks and lively conversation, Michael invites Lisa to his room, and their intimacy convinces Michael that he could only find happiness with Lisa - after a revealing nightmare during the night, the next morning he decides he must leave his wife and start anew with her, but building up inside of him is an anxiety that will make everything unclear.
I can understand a lot of the emotional context in this film - I think I'm the right age for it, and I also think I've had the kind of life experiences that produce an empathy within me in regards to Michael. I don't agree wholeheartedly with his decisions and view of life, but I understand his confusion and anxiety regarding his environment and other people. He finds love with someone who is different, a little insecure yet sincere and good-hearted. A quiet woman who we sense, after a while, might not be the ideal match with the intelligent Michael - he obviously needs intellectual stimulation, and seems anal in his need for proper manners, cleanliness and neatness. The main factor in her favor is she's the only person Michael can really see - everyone else just melding into a grey same-ness, sounding and looking alike. It almost feels like Michael is meeting another person for the very first time, with everyone else just being an amalgamation and extension of his own psyche. Later events hint at the fact that the absolute inverse of this is true.
The three actors we hear in this were the same ones who performed in the audio play, with one stage left, one stage right and one center-stage - having no props or scenery to provide any visual cues for the audience. Turning this into stop-motion action was not only ridiculously difficult and time-consuming - it nearly became a disaster, as problem after problem beset producers and animators. From leaking stage-roofs to repossessed equipment and unusable footage, new intractable problems were always just around the corner. At times a full day's work for one animator would only produce a few seconds of usable footage - so there were many working away at the same time with distinctive models which sport two-piece faces. This was all developed at first through Kickstarter, to fund a short film version of
Anomalisa
until eventually further funds were secured for a feature length version. Screenwriter Charlie Kaufman, wary at first, eventually gave this fully-fledged effort at bringing it into a visual medium his blessings.
So, what is the hidden surprise? It is the fact that Michael may have not spent the night with anyone - but instead imagined his entire encounter. Before the scene where he meets Lisa, Michael searches the Cincinatti streets to buy a toy for his young son. He inadvertently wanders into an adult shop, and notices a Japanese erotic doll which has damage to the same side of it's face that Lisa ends up sporting, and which leaks semen when he eventually gets it home and unveils it. There are other hints, such as when Lisa is asked what her favourite foreign language is, she replies "Japanese, obviously." Has Michael simply imagined a special night with somebody completely different from all of the same usual people, using the Japanese doll as a substitute person? There's enough room to leave that question perpetually open, and give leeway to whichever interpretation pleases the viewer.
Anomalisa
does leave us with a parting vision of Lisa and Emily, whether that be in Michael's imagination or not - and provides us with what is meant to be a parting letter to her one night stand.
The film has been constructed by an army of technicians and artisans, so when everything is added, the only two people who serve as a proxy to those who produced it are the idea men - screenwriter Kaufman and co-director Duke Johnson. We already know Kaufman's imagination is a fertile field for all kinds of inner psychological exploration and humanist discovery. Johnson is a relatively new face amongst talented animators. I enjoyed the short "puppetized" clip of
My Man Godfrey
we get from a puppet television (it was originally meant to be
Casablanca
, but
Godfrey
was free and thus the more economically viable choice) and the crease that was purposely left in the puppet's faces. At times these faces literally fall apart - events which occur during moments of great stress, or in dreams, and that adds an element of expressive freedom. Nothing could communicate dissonance any clearer than that. It also, bravely, includes full-on puppet sex - and the sex scene we're treated to in
Anomalisa
has been praised for it's awkward real-feeling authenticity. As is usual with Kaufman, it feels like we're positioned as spectators deep inside the protagonist's mind.
I enjoyed and really felt
Anomalisa
, and could see myself watching it again. The world it exists in looks sadly dreary - a look that really worked for what Kaufman was aiming for. When we see shifting sunlight in it - a connection between our real world and Michael's world appears, shifting, dimming and reigniting during the hours we spend in it. Emotionally it was complex, relatable, and very much within the bounds of believable experience. Michael Stone is afflicted with a delusion (I thought he was gay at first, with his partner and past lover having a male voice) which complicates the way he relates to everyone in his life, and it explains his habit of keeping his distance from most everyone he meets. To fall in love at this moment causes a grave crisis, and is as frightening for him as it is exciting, which causes the speech at the conference to go horribly awry. That's a typical Kaufman development for a character - and something I think I was prepared for. I'm glad that it ended on a somewhat warm note - with Lisa and Emily driving in the sunshine, and Lisa happily writing to Michael about future possibilities, and happy thoughts. The family unit is still together, even if slightly unstable. We don't need unrealistic 'Happily Ever Afters' - and a leaky animatronic Japanese doll tells us that this was mainly a hiccup in the mind of a troubled protagonist who perhaps has these moments more regularly than we even realise.
__________________
My movie ratings often go up or down a point or two after more reflection, research and rewatches.