Bright light. Bright light. Uh oh.
Cosmoball
(Dzhanik Fayziev, 2020) + 5/10
Paris Honeymoon
(Frank Tuttle, 1939) 5.5/10
Two Distant Strangers
(Travon Free & Martin Desmond Roe, 2020) 6.5/10
Valley of Souls
(Nicolás Rincón Gille, 2019) 6/10
Gorgeous widescreen photography and a powerful performance by José Arley de Jesús Carvallido Lobo highlight this overlong account of a fisherman trying to find his sons' bodies which were dumped in a river by a Colombian paramilitary group.
The Star Maker
(Roy Del Ruth, 1939) 6/10
Cuatro paredes AKA Four Walls
(Matthew Porterfield, 2021) 5/10
Duffy's Tavern
(Hal Walker, 1945) + 6/10
Leaving Las Vegas
(Mike Figgis, 1995) 6.5/10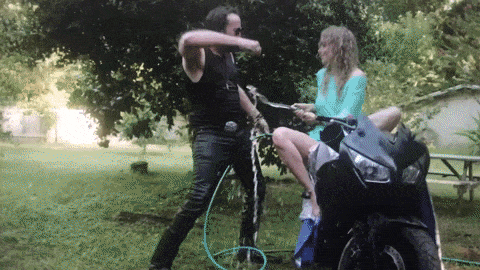 Two lost souls (man trying to literally drink himself to death Nicholas Cage and whore Elisabeth Shue) find a few minutes of true love.
The Hell-Fated Courtesan
(Noboru Tanaka, 1973) 5/10
The Return
(Malene Choi, 2018) 6/10
T11 Incomplete
(Suzanne Guacci, 2020) 5/10
Night in Paradise
(Park Hoon-jung, 2020) 6/10
Occasionally exciting and lyrical thriller is just way too long.
Spring Parade
(Henry Koster, 1940) 6/10
Cold Blooded Killers AKA Killer Rose
(Rickey Bird Jr., 2021) 4+/10
Red, Hot and Blue
(John Farrow, 1949) 6/10
Lies My Father Told Me
(Jan Kadar, 1975) 8/10
Lovely, intense, funny coming-of-age tale of Jeffrey Lynas learning from his grandfather Yossi Yadin in 1920s Montreal.
Paper Lives
(Can Ulkay, 2021) 6/10
The Black Doll
(Otis Garrett, 1934) 5/10
City of Lies
(Brad Furman, 2018) 6/10
One Night in Miami...
(Regina King, 2020) - 7/10 Second Viewing
On February 25, 1964, Sam Cooke (Leslie Odom Jr), Cassius Clay (Eli Goree), Malcolm X (Kingsley Ben-Adir) and Jim Brown (Aldis Hodge) get together to talk about their friendship and the state of their world.
__________________
It's what you learn after you know it all that counts. - John Wooden
My IMDb page