We are now officially more than a year past the end of the previous decade. While eleven years probably isn't truly enough time to digest and mull over the thousands of titles released between 2010 and 2019 - even with the forced hibernation of 2020 - it is enough to at least take an honest shot at compiling such list. So without further a doo-doo here are my choices for the Top 100 films of that decade.
1. La La Land
2016, Damien Chazelle
In awards season terms it peaked just a
smidge
too early, which became evident after deciphering that envelope confusion on the stage of the Academy Awards. That blunder aside its Not-Best-Picture footnote did absolutely nothing to diminish my love for a flick I had already seen six times theatrically. From the opening freeway number to the wistful but celebratory speculative tour of what turn their relationship might have taken at the end I was instantly and intensely invested in the Musical romance between these two characters and the missive to both Los Angeles and the magic of the movies themselves. Highlighted by great songs, energetic and clever staging, and two endlessly charming movie star turns by Emma Stone and Ryan Gosling wrapped up in the fun and witty sensibility of Chazelle.
La La Land
is now firmly in place in the cinematic firmament with
Singin' in the Rain
(1952) and
Pennies from Heaven
(1981) as my all-time favorite Musicals and for me it all added up to being THE film of the past decade.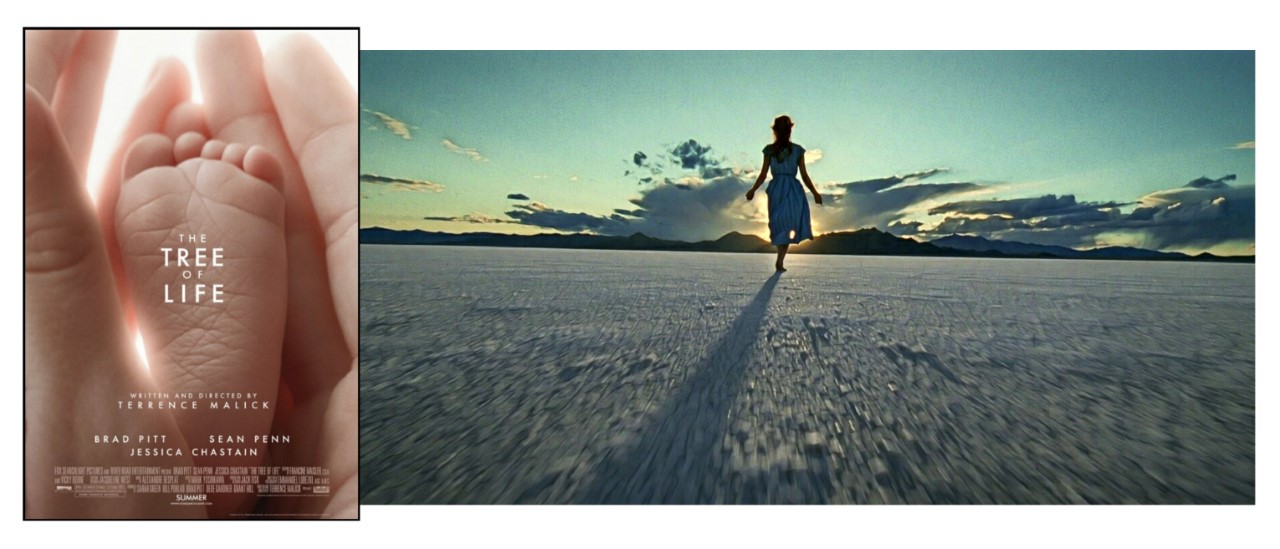 2. The Tree of Life
2011, Terrence Malick
Malick had set himself up as the J.D. Salinger of film. His first two projects as writer/director in the 1970s,
Badlands
(1973) and
Days of Heaven
(1978), had labeled him as the poet of his generation of filmmakers that included Coppola, Spielberg, Scorsese, Lucas, and Ashby. And then...he completely vanished from the scene. There was a twenty-year gap before he came roaring back with
The Thin Red Line
(1998) and "only" six year waits for his next two. His fifth feature
The Tree of Life
magnificently brings to the screen an impressionistic and dreamlike remembrance of growing up in rural 1950s Texas interspersed with visions of the modern world, the ancient world, the mystic world, and the imagined world. It has an audacious scope filtered through a beautiful lens that is grounded in the search for love and exalted by wonders.
3. The Social Network
2010, David Fincher.
Fincher made his splash in the business via slick, dark, and enormously compelling entertainments rooted in genre like
SE7EN
(1995),
Fight Club
(1999),
Zodiac
(2007), and
Gone Girl
(2014). Rightly so! He is a modern master of such cinematic tales. But his sensibility coupled with Aaron Sorkin's take on the meteoric rise of Facebook and the lawsuits among its Harvard student founders is also a perfect match. How historically accurate it all is I can't say, though certainly nobody really talks with as much clipped brilliance as Sorkin crafts his dialogue. Whatever inaccuracies and fictions there are along the way hardly matter as this tale of the personalities who happened to hit upon the engine that has become at least as much of a curse as it is a blessing before degenerating into jealousy and betrayals is tonally sharp, timely, often funny, and always clever. Watching Jesse Eisenberg's Zuckerberg turn hurt pettiness into an empire that he then defensively self-isolates within is a winner.
4. Incendies
2010, Denis Villeneuve
If Fincher has a successor in the generation of filmmakers who came to the fore in his wake it is arguably Villeneuve. He is also adept at perfect visuals utilized stunningly in many genres, but all while feeling as if they are being broadcast from his very own dark and perceptive universe.
Incendies
was not his first feature but it was the first to have an international presence, instantly moving him from a regional Canadian filmmaker to a new master who now gets to paint upon increasingly bigger and bigger canvases.
Incendies
is structured like a mystery with a daughter traveling back to her recently deceased mother's homeland in the Middle East after the reading of her will begins to uncover secrets of her past. The discoveries and flashbacks lead to a devastating and perfectly realized finale. I screened
Incendies
at a film festival and was simply knocked out. Clearly I wasn't the only one who was affected as the powerful little film lead directly to the run of
Prisoners
(2013),
Enemy
(2013),
Sicario
(2015),
Arrival
(2016),
Blade Runner 2049
(2017), and now
Dune
(2021). Three of those subsequent films also appear on my list but it is
Incendies
with its smaller scale and rawer emotions that still rattles in my cinematic bones.
5. Take Shelter
2011, Jeff Nichols
Another of my favorite filmmakers to emerge in the past decade is definitely Jeff Nichols. That he usually pairs with Michael Shannon, one of my very favorite actors from this century, certainly doesn't hurt. Nichols' first film,
Shotgun Stories
(2007), was a nice introduction of a new voice on the landscape, but it was in this his second movie where that voice screamed and demanded to be noticed. Shannon plays a modest man who is increasingly beset by visions of apocalyptic terrors coming for him and his family. Is it paranoia or premonition? Are end times upon us or are these fears simply ripping his family apart? It is a small and very precise film with some dazzling crescendos all orchestrated by Nichols and performed by the symphony that is Michael Shannon. Two more of Jeff Nichols' films make my list further down but
Take Shelter
is the somehow hopeful nightmare I do not want to wake from.
6. The Artist
2011, Michel Hazanavicius
Hailed by some and denounced by others, I was totally transported by this loving homage to the Golden Age of Hollywood made mostly by Frenchmen. I was lucky to have caught the hysterical
OSS 117: Cairo, Nest of Spies
(2006) at a film festival. It is a spot on spoof of 1960s spy flicks while sprinkled with some very smart satire. It also stars Jean Dujardin and Bérénice Bejo. That movie broke box office records in France, and after the serviceable but diminishing returns of the sequel
OSS 117: Lost in Rio
I wondered what else Hazanavicius might have for the world. It turned out to be
The Artist
, and thank goodness! Plenty of audiences and critics dismissed it as gimmicky or hokey but I find it to be blissfully sincere and like the form it is briefly bringing back to life full of pathos and humor and humanity with its two stars sparkling on the screen. Three stars if you include Uggy the dog.
7. The Grand Budapest Hotel
2014, Wes Anderson
I connected with Wes Anderson in a massive way with
Rushmore
(1998). He instantly rocketed to the top of my favorites list and for me he can do no wrong. Each of his movies is a perfectly curated bit of cinema that I cannot get enough of. All three of his releases from this decade made my list but I find
The Grand Budapest Hotel
to be among his very best, yet. Punctuated by more casual cruelty than most of the others but still a bright fantasy that follows Ralph Finnes, in his best comedic performance to date, as a charming rogue of a concierge with some sex and death and love and prison and chases all baked into a perfect and delicious pastry. Pure movie joy for this lobby boy in training.
8. Silence
While Fincher, Wes Anderson, Jeff Nichols, Villeneuve, and Chazelle are all favorites and Malick an undisputed legendary master my favorite filmmaker among favorite filmmakers remains Martin Scorsese. Four of his five narrative features made my list for this period and the most impressive is
Silence
. Marty had been toying with adapting Shūsaku Endō's acclaimed novel for close to thirty years before mounting the production. The story, which follows Jesuit Priests in 17th Century Japan who attempt to spread the Gospel at a time when Christianity was outlawed, makes a sort of informal trilogy of faith with
The Last Temptation of Christ
(1988) and
Kundun
(1997). Stunningly photographed, Andrew Garfield and Adam Driver are magnificent as the younger men sent to find what happened to Liam Neeson's character who has vanished. The Catholic Scorsese never shies away from the examination of the power of faith, be it
Mean Streets
,
The Last Temptation
, or
Silence
, and the complexity and seriousness of the novel are very well translated to the screen. Beautiful, terrifying, and restorative. I hope Scorsese lives to be a hundred and ten and he makes moves all the while.
9. Birdman or (The Unexpected Virtue of Ignorance)
2014, Alejandro González Iñárritu
With all of the great directors working today, many of which I have already named above, it may be Alejandro Iñárritu who had one of the strongest outputs of the entire decade, and he only made three films.
Birdman
is the one that broke through to win Best Picture. Its experimental structure of long, uninterrupted takes designed by Iñárritu and cinematographer extraordinaire Emmanuel Lubezki with Michael Keaton's stressed actor preparing for a play while battling his demons is a treat as well as a technical tour de force. Keaton is magnificent playing a funhouse mirror version of himself, an actor who became notable for playing a big screen superhero but longs to be regarded as an artist. It is dizzying and breathless and funny and weird and perfectly realized.
All About Eve
on acid.
10. The Revenant
2015, Alejandro González Iñárritu
Iñárritu and Lubezki immediately followed the triumph of
Birdman
by taking off to the remote wilderness with Leo DiCaprio and Tom Hardy to make a grizzly tale (pun intended) of survival and revenge. Magically capturing the awe-inspiring beauty and the crippling Hell of the frontier, the heightened but naturalistic prism elevates a fairly straight forward narrative into a bloody torrent of the will to live and the drive to punish those who deprive us of the simple yet endlessly powerful joy of love. DiCaprio earned his long overdue Oscar, Alejandro won his second Best Director trophy in a row, and Lubezki won his third Best Cinematography Academy Award in a row. Brutal and beautiful primal cinema.
__________________
"Film is a disease. When it infects your bloodstream it takes over as the number one hormone. It bosses the enzymes, directs the pineal gland, plays Iago to your psyche. As with heroin, the antidote to Film is more Film." - Frank Capra
Last edited by Holden Pike; 01-15-21 at

02:28 PM

.