Who Framed Roger Rabbit
(1988)
Director
: Robert Zemeckis
Writers
: Gary K. Wolf(novel), Jeffrey Price(screenplay)
Cast
: Bob Hoskins, Christopher Lloyd, Joanna Cassidy
Genre
: Animation-Live Action, Adventure, Comedy
About
: A down and out, toon-hating, boozen detective, Eddie Valiant (Bob Hoskins) is Roger Rabbit's (voice by Charles Fleischer) only hope of beating a framed-up murder rap. The suspects include Roger Rabbit's voluminous & voluptuous wife, Jessica Rabbit (voice by Kathleen Turner). Into the mix comes the mysterious and dangerous Judge Doom (Christopher Lloyd) who takes a twisted pleasure in dipping toons in a deadly toxic solution.
Review
:
Who Framed Roger Rabbit
is the most innovative animated movie ever made. In 1988 it was the most expensive movie ever made...and one of the longest to make too. It took 7months for principal photography(filming of live actors), another month of blue screen work...and an excruciating 14 months in post production to do the complicated animation work.
Unlike previous attempt at live action intermixed with animation, this movie went to great lengths to teach the live actors how to do pantomime so that when a human picks up a toon, it looks like he's lifting weight and not just air.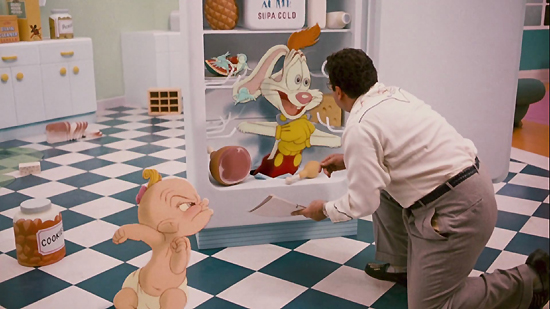 Many of the live props in the hands of the toons were shot with robotic controlled arms, then latter the animation was layered over top of it. A prime example of that is Baby Herman and his real cigar. Which moves realistically as it's a real prop shot on film and being controlled remotely.
To make it so the humans had eye contact with the toons an initial blocking scene was filmed with rubber dolls standing for the toons. Then the eye path could be checked and corrected so that humans and toons look like they're really interacting. And it works! It's easy to believe what you're seeing is true.
Bob Hoskins
was the perfect choice for detective Eddie Valant, he looked the part and his annoyance at the outrageous Roger Rabbit made the movie all the more humorous.
A big shout out, to Joanna Cassidy and Christopher Lloyd, both who helped make the movie a truly fine stand out film.
I enjoyed the nod to
Film Noir,
circa 1947 where Hollywood meets Disney and Looney Tunes. It's totally cool to a film buff to see Jessica Rabbit patterned in the style of Rita Hayworth (Mrs. Orson) and sporting a Veronica Lake peek-a-boo hairdo. Even more fun was seeing all the old cartoon characters from Disney and Warner Bros together on the big screen for the one and only time. And just as important is the animation is drawn in the original style of the 1940s...and voiced by many of the original vocal artist, including legendary Mel Blanc.
I really enjoyed this, it was well done, entertaining, fun, with great sets and lots of neat movie related stuff in the background.
+
, this scene gets me everytime I watch the movie, a very fun movie to watch If I may add