11
Collateral - 2004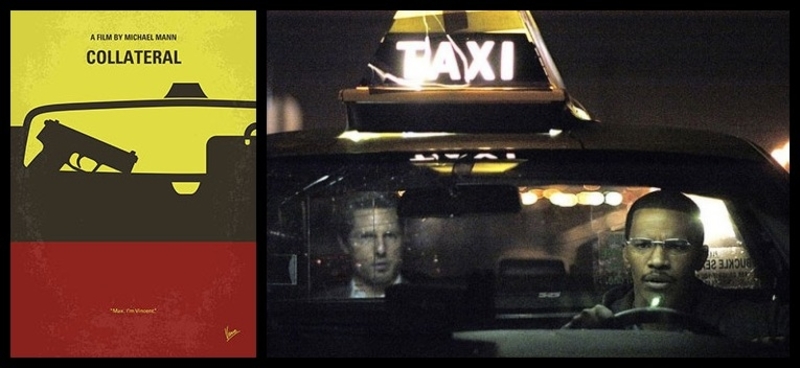 "A guy gets on the MTA here in L.A. and dies. Think anybody'll notice?"
This may or may not be surprising but this is my favorite Tom Cruise movie. It's not his most popular movie and maybe he has taken on heavier roles but to me this is his best. He is so damn cool as a mysterious hitman for hire Vincent. This is one of Jamie Foxx's best movies/roles as well as an unassuming cab drive Max. Jamie got nominated by the Academy for his role and he was very deserving but I feel like they snubbed Cruise. He was so damn believable as the enigmatic for hire assassin. Their chemistry is great in the flick.
This movie is just really slick from the story to the acting to how it was shot. Michael Mann does an incredible job directing this movie. It's over one night in LA and Los Angeles feels like a character in the movie as well. If you have never been to LA it feels like you spent a night there after this movie. Whenever they are in the cab Mann has some really cool shots of them, like the pic above. I just really dug how this movie looks. The story also keeps you super engaged as you explore this one night with Vincent and Max. The music in the movie also hits just right to me.
I just find this movie super underrated. It's just a really cool flick with a really engrossing story and some stellar performances by Foxx and Cruise. Recommend it highly.
On to the top 10
Director -
Michael Mann
Best Performance -
Tom Cruise as Vincent
Rotten Tomatoes Score -
86%
Factoid -
According to Michael Mann, Vincent is a man able to get in and out of anywhere without anyone recognizing or remembering him. To prepare for the movie, Tom Cruise had to make FedEx deliveries in a crowded Los Angeles market without anyone recognizing him.
Stock In Countdown -
Neutral
Memorable Scene

__________________
I came here to do two things, drink some beer and kick some ass, looks like we are almost outta beer - Dazed and Confused
Last edited by MovieBuffering; 12-04-19 at

04:24 PM

.