O Brother Where Art Thou?
Once again, Joel and Ethan Cohen knock it out of the park with 2000's
O Brother Where Art Thou?
, a rowdy, but sweet natured black comedy that provides consistent laughs and grins throughout thanks to an extremely clever screenplay that almost goes a little too far at the climax and some knockout performances from a lot of familiar members of the Cohen rep company.
The setting is the deep south during the 1930's where we meet Everett, Pete, and Delmar, three convicts at a prison work farm who manage to escape, who have been clued into a possible treasure that could bring them untold riches, sending them on an episodic adventure that provides unexpected comedy and drama for the trio.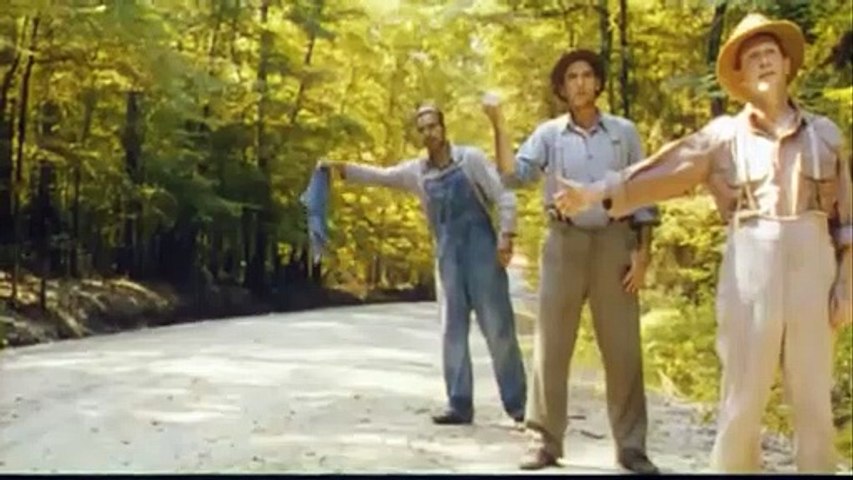 Technically, the film was produced by Ethan and directed by Joel, but they are both credited with the Oscar-nominated screenplay, which is actually credited to be inspired by Homer's
The Odyssey
links three people together who seem to be willing to do anything to find this treasure except betray each other. There is actually a point in the story where one of the trio gets recaptured and is returned to the work farm but eventually gets sprung by his buddies. The opening of their adventure was unpredictably fun which found the trio stopping at a recording studio in the middle of nowhere and making a record, that actually becomes a smash hit, but our boys are unable to be located in order to receive their accolades. Love the way this part of the story seems to be forgotten about initially but does eventually tie into the finale.
Also loved the boys' encounter with Baby Face Nelson, who is portrayed here as straight up insane. An encounter with some beautiful women, who seem to be a contemporary thinking of the classic sirens who lured sailors into the sea, who have Delmar thinking Pete has been turned into a toad, was also a lot of fun. Their encounter with a phony traveling salesman, who beats and robs them was troubling because the viewer can see immediately that this guy is trouble but for some reason, our guys are completely taken in by them.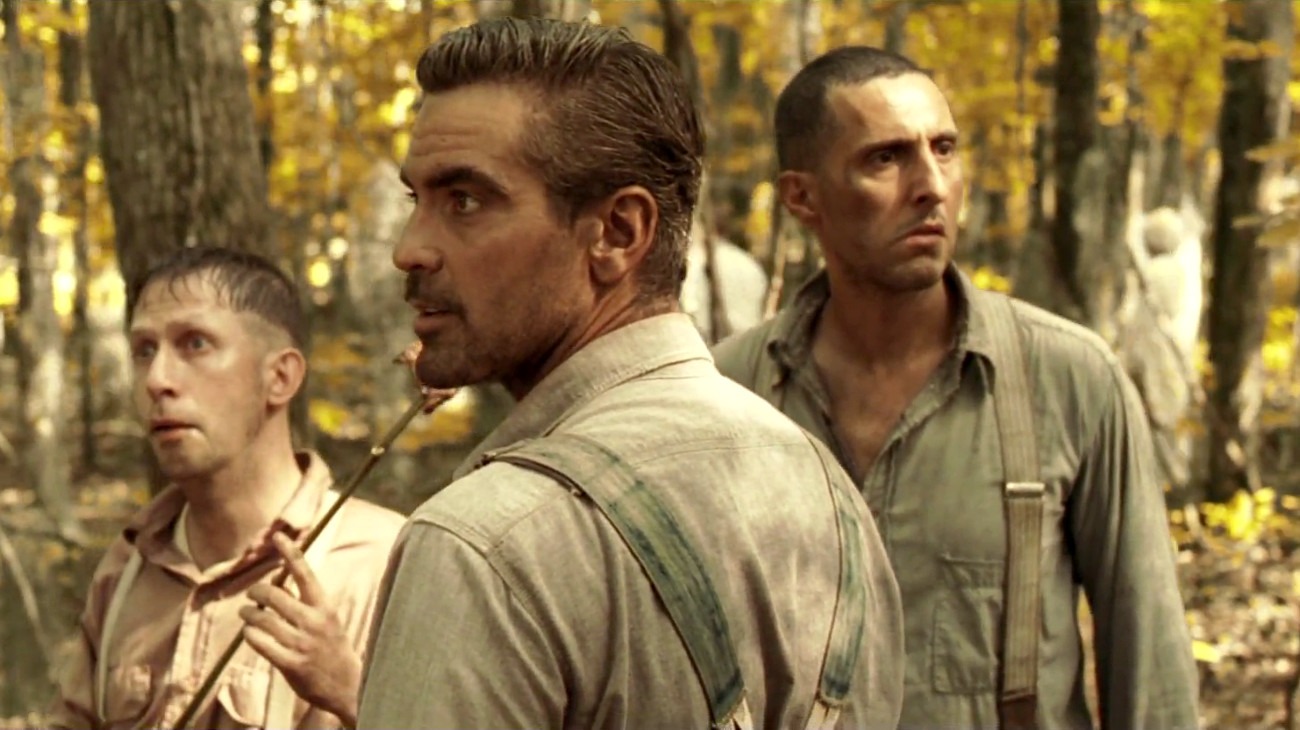 The film is also provided a lovely background, courtesy of some lovely southern gospel music, supervised by T Bone Burnett, that provides a warm and inviting under pinning to the story. As a matter of fact, the soundtrack for this movie became a bestseller and was on the billboard charts for over a year. Even though the stars don't do their own singing, the
musical sequences bring as much to the story as everything else.
As always, the Cohens employ first rate production values to their story, with a special shout out to Roger Deakins' stunning, Oscar-nominated cinematography. George Clooney offers one of his breeziest performances as Everett and John Turturro is all kinds of fun as Pete. Michael Badalucco and John Goodman also appropriately chew the scenery as Baby Face Nelson and the phony salesman, respectively, but Tim Blake Nelson pretty much steals the show as the delightfully naive Delmar. There are couple of unnecessary endings tacked on the end, but this movie is joyous, raucous fun from beginning to end.
Last edited by Gideon58; 08-11-23 at

07:11 PM

.